Cloud Eggs
Fluffy and snowy eggs are joyfull for a sunday breakfast menu.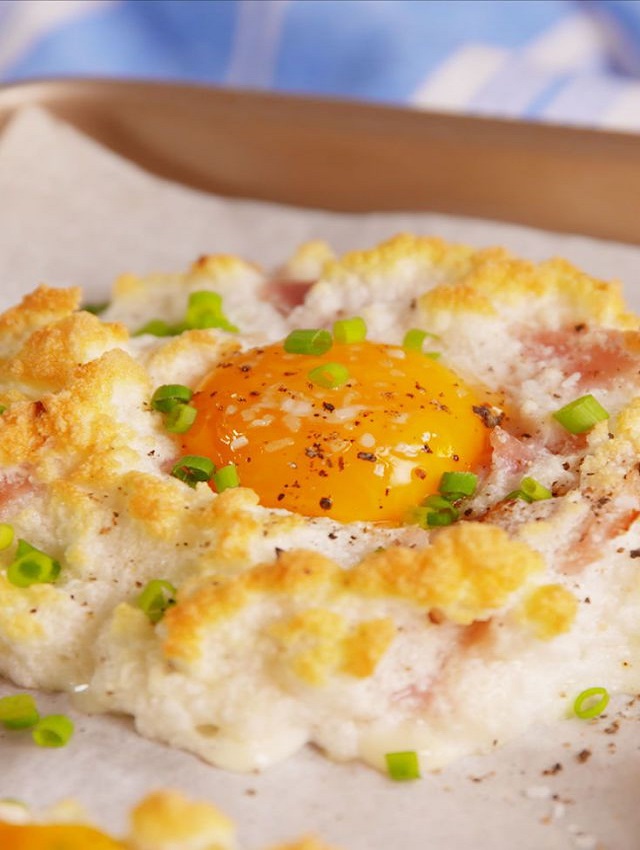 Ingredients
8 large eggs
1 c. freshly grated Parmesan
1/2 lb. deli ham, chopped
Kosher salt
Freshly ground black pepper
Freshly chopped chives, for garnish
Steps
Preheat oven to 450° and grease a large baking sheet with cooking spray. Separate egg whites and yolks, placing egg whites in a large bowl and yolks in a small bowl. Using a whisk or hand mixer, beat egg whites until stiff peaks form, 3 minutes. Gently fold in Parmesan and ham and season with salt and pepper.
Spoon 8 mounds of egg whites onto prepared baking sheet and indent centers to form nests. Bake until lightly golden, about 3 minutes.
Carefully spoon an egg yolk into center of each nest and season with salt and pepper. Bake until yolks are just set, about 3 minutes more.
Garnish with chives before serving.