Cream Cheese Pie Dough and Creamy Chicken Pie Sticks
I love the recipe which has chicken and crispy dough like Creamy Chicken Pie Sticks. We have made this super cute Creamy Chicken Pie Sticks for you. It's a recipe for a nice dinner or for lunch alone! I love to serve with Creamy Pico De Gallo.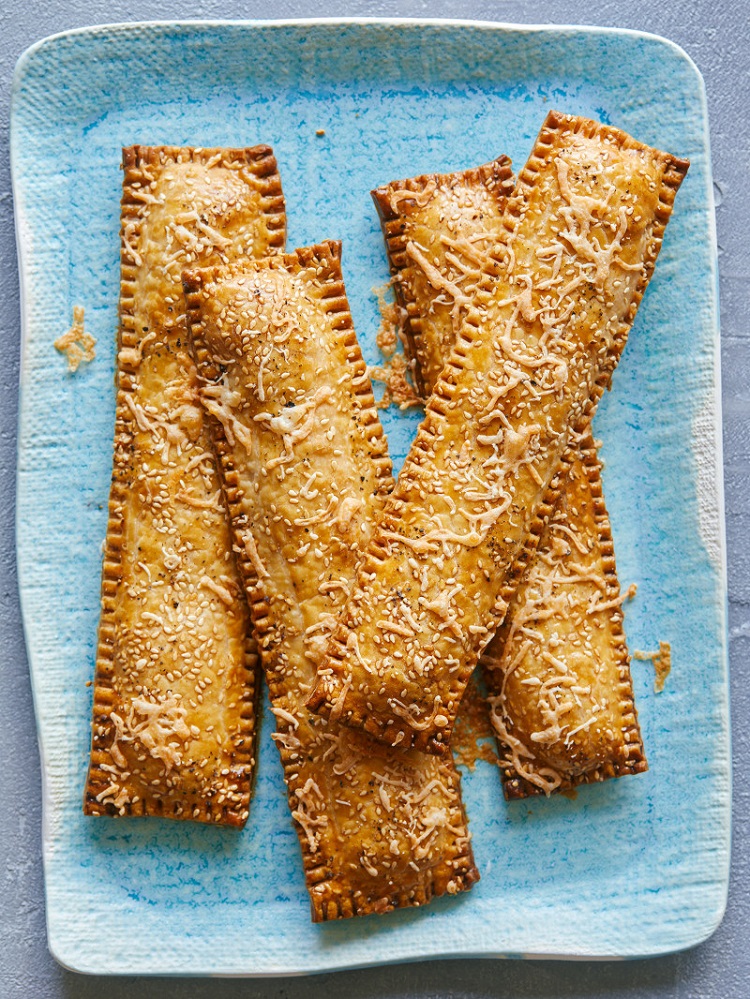 How To Make Cream Cheese Pie Dough?
Add 125 g flour, 1/4 teaspoon salt, 1/8 teaspoon baking powder, 6 tablespoons of butter cut into small cubes and 60 g of cream cheese in a food processor and mix until you get a fine texture. When turning on the robot, add 1-2 teaspoons water and 2 teaspoons vinegar and continue to turn on the robot until the dough is formed. Pour the dough onto a clean surface and roll into a ball with your hand. Cover tightly with plastic packaging and cool for min 30 minutes.
Ingredients
2 cooked, boneless skinless chicken breasts, shredded
1 (8 ounce) package cream cheese, softened
1 cup white cheddar cheese
1/2 cup sour cream
2 green onions, thinly sliced
1 recipe cream cheese crust (divided into two discs and chilled)
1 1/2 tablespoons sesame seeds
1 egg, beaten
Steps
Preheat oven to 425˚F
Combine filling ingredients in a large mixing bowl and completely mix together. Set aside.
To assemble: Roll 1 chilled dough out onto a lightly floured surface into a 13" x 9" rectangle and brush surface with egg wash.
Scoop filling into a piping bag or resealable plastic bag and cut a 1/2 inch opening at the tip.
Leaving a 1/2 inch border around the edge and beginning on the left (13 inch) edge, pipe 8 lines of filling, 2 inches apart.
Roll other disc of dough to a 13"x 9" rectangle. Sprinkle sesame seeds over dough and using a rolling pin, gently embed sesame seeds into dough.
Carefully lift and place sesame studded dough over filling topped dough and gently press down between filling and edge to seal.
Slice to separate each hand pie stick and using the back of a fork, crimp edge of each stick.
Transfer sticks to a parchment lined baking sheet, about 1 inch apart.
Brush each stick with remaining egg wash and sprinkle with sea salt and cracked black pepper.
Bake hand pie sticks in the oven for 20 to 25 minutes or golden brown and cooked through.
Allow savory hand pie sticks to cool, about 15 minutes, before serving.