Coriander Fish Tacos and Creamy Avocado
Will the fish be on the grill or the barbecue? I could not decide! You can use the grilled fish with avocado sauce to say goodbye to the last sweet weather of the summer months with a nice party with your friends and lemonade with thyme and vodka in your garden.
If you give time to marinate the flashy fish, a healthy menu will come out. Chopped coriander, salt, pepper, lime rind and olive oil to prepare and give min one hour for rest in the marina. To make this recipe even easier, marinate the day before and wrap it tightly with a stretch film.
Take a small blender to make avocado sauce and add lemon juice, sour cream, salt and pepper on top of the peeled avocado and mix until smooth. I also like to add a piece of garlic. But according to your taste, you can add ingredients and create your own sauce. Keep in the refrigerator in a container until it will use. But it's best to make it fresh!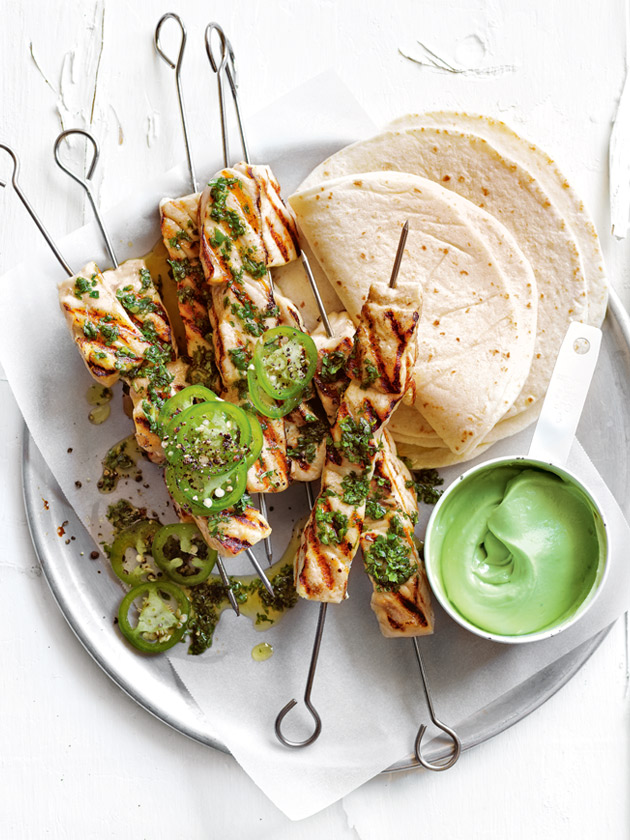 Ingredients
800 g white fish fillets, cut into 4 cm pieces
2 teaspoons finely grated lime rind
1 cup (50 g) fresh coriander leaves
1 tablespoon extra olive oil
Sea salt and cracked black pepper
Creamy Avacado;
1 avocado, roughly chopped
2 tablespoons lime juice
80 g sour cream
8 small toritilla bread
1 jalepeno, thinely sliced
Steps
Place the fish, lime rind, coriander, oil, salt and pepper in a large bowl and toss to combine. Thread onto 10 metal skewers. Place the avocado, lime juice, sour cream, salt and pepper in a small food processor and blend until smooth. Set aside.
Preheat a lightly greased chargrill pan over high heat. Cook the skewers for 2–3 minutes each side or until lightly charred and cooked through. Divide the skewers and tortillas between plates. Sprinkle with jalapeño and pepper and serve with the avocado mixture.