No Fail Homemade Mayonnaise
Making homemade mayonnaise takes just a minute with a stick blender.
This mayonnaise recipe is also paleo-friendly (the paleo diet is a diet plan that focuses on eating less or no processed foods) because it uses a high quality avocado oil. Once you've had mayonnaise at home, you'il never get it again. The mayonnaise bottle purchased from many stores is filled with ingredients such as canola oil or soybean oil and contains additional sugar. Not to mention preservatives and "natural flavors.. Of course it is always best to make it fresh!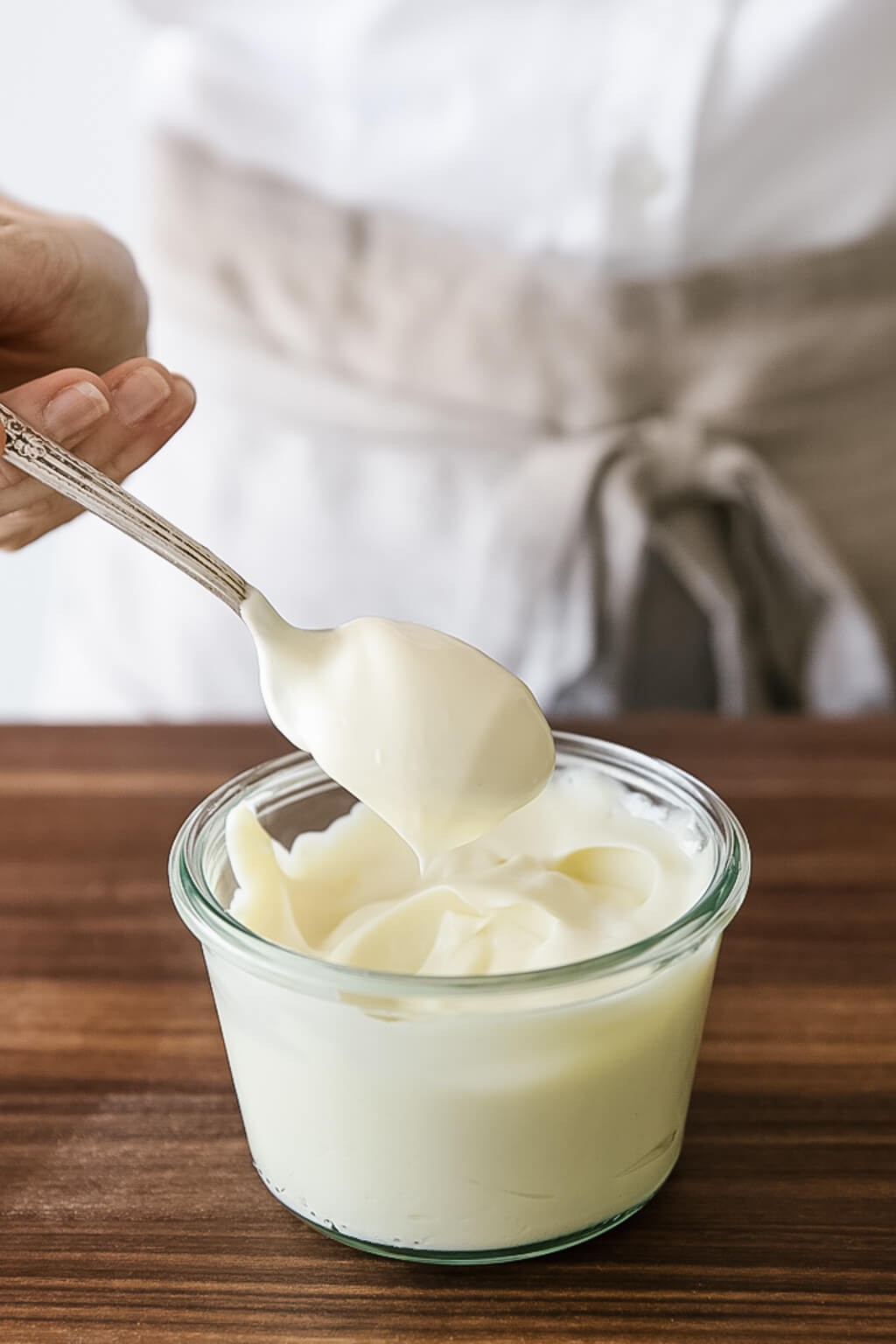 What are the ingredients of homemade mayonnaise?
Homemade mayonnaise, on the other hand, is an emulsion of only 6 fresh ingredients. Although my choice is yours, most of my ingredients are organic. So what's in my mayonnaise recipe?
Avocado oil
Egg
Lemon juice
White wine vinegar
Dijon mustard
sea salt
You can replace avocado oil with a lightly flavored olive oil and white wine vinegar with a light, high-quality vinegar type (eg organic coconut vinegar). Professional tip: Do not use extra virgin olive oil with a very strong taste.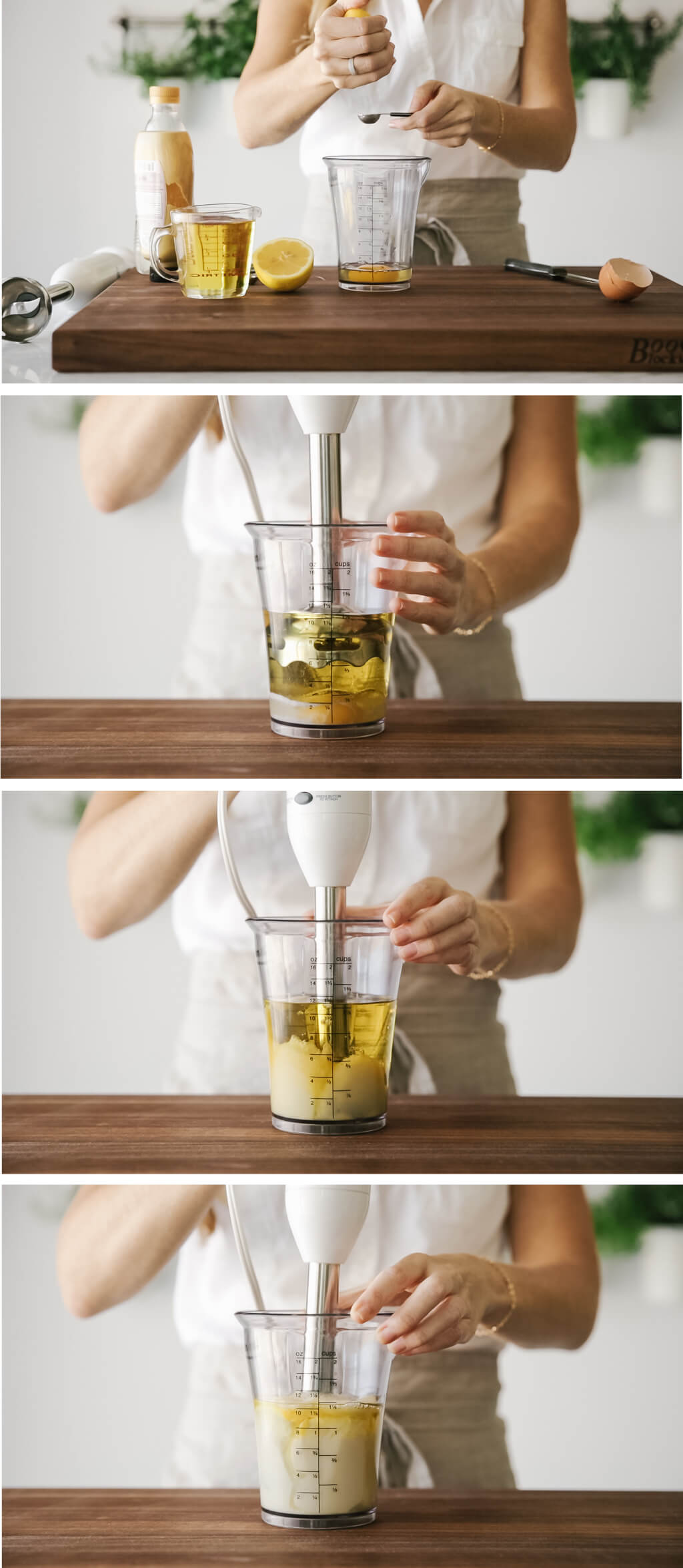 What are the tricks of making mayonnaise?
Do not use a larger / wider jar. What makes this recipe work so well is that the jar that comes with your bar mixer fits tightly to the width of the mixer head. This ensures that the egg and oil are slowly emulsified. If you use a larger or wider jar, you may experience problems.
Do not try this recipe in a food processor or blender. This recipe was written specifically for a bar blender. It will fail if you add all ingredients to another mixer.
Choose a high quality oil. The main ingredient in mayonnaise is oil, so choose a high quality oil. . Avocado oil has a very neutral taste (compared to other oils). You can also use regular olive oil or slightly flavored olive oil. Avoid extra virgin olive oil or low quality, industrial seed oil (canola, grape seed, safflower, peanut, etc.).
Is raw eggs a concern? Don't worry about the raw egg in this mayonnaise, but if you have personal concerns, you can definitely use a pasteurized egg.
Cool the mayonnaise. After performing mayonnaise, transfer to a closed storage container and store in the refrigerator. You can store in the refrigerator for up to a week. Do not freeze the mayonnaise as the emulsion will break.
Ingredients
1

 

whole egg

½

 

tbsp

 

lemon juice

1

 

tsp

 

white wine vinegar

¼

 

tsp

 

dijon mustard

¼

 

tsp

 

sea salt

1

 

cup

 

avocado oil

, 

or light-flavored olive oil
Steps
Add all of the ingredients (with the oil last) into the jar that came with your stick blender.
Give the ingredients a minute to settle, with the oil separating on top.
Place your stick blender in the jar and press it firmly to the bottom. Turn it on and keep it pressed against the bottom of the jar for at least 10-15 seconds. Once the mayonnaise starts to emulsify and thicken, slowly move the stick blender up and down to fully combine the ingredients.
Once it's all blended, remove the stick blender. Give it a few stirs with a spoon and place in a storage container in the refrigerator. It will stay fresh for up to one week.