Prawn Rice Salad
Prawn Rice Salad, healthy and delicious dinner idea! The whole family will love a delicious, healthy dinner plate. In this recipe we used long grain basmati rice. For more information, please read our article below.
What is basmati rice?
Basmati rice grows in the foothills of the Himalayan mountains and the natural flavored ratio is twice the size of the product after cooking. The rice, which can be consumed simply, takes its place alongside the main dishes as a side dish. Almond, walnut, curry sauce, mushroom, can be cooked with tomatoes and long shelf life thanks to the long-term can be used. The product is very high in the starch ratio, as well as a good source of energy and vitamins and minerals due to a healthy nutrition program is part of the program. Since it is an easy to digest, it is frequently consumed in stomach discomfort and the edema has a detoxifying effect as it removes excess water from the body.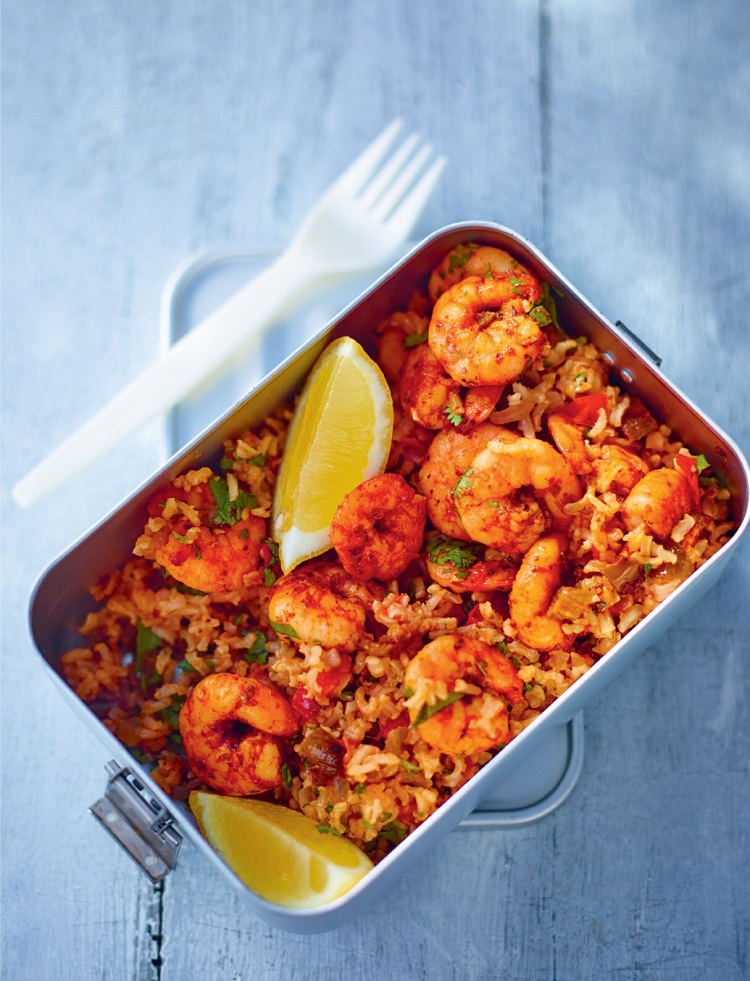 Ingredients
2 tbsp butter
225 g brown long-grain or basmati rice
1 red onion, finely chopped
2 large tomatoes, cut into small cubes
3 garlic cloves, finely chopped
1.2 litres chicken or vegetable stock
250g raw, peeled king prawns, or precooked frozen prawns
5 slices of jalapeño pepper (from a jar, look for a sugar-free brand), roughly chopped (optional)
1 tsp paprika
1 tsp ground cumin
1 tsp dried oregano
Leaves from ½ bunch of fresh coriander, finely chopped (optional)
Sea salt and fresh ground black pepper to serve
1 lemon, cut into 4 wedges
Steps
Put 1 tablespoon of the butter in a large sauté pan over a high heat and add the rice. Cook it for about 3–4 minutes, moving it from time to time so that all the rice gets a chance to be in contact with the bottom of the pan.
The rice should turn golden brown and a little crispy. Reduce the heat to medium, add the onion and cook for 2–3 more minutes, stirring the pan from time to time. Add the tomato and garlic and cook for 1 minute.
Add the stock (it should come to about 1.5cm above the top of the rice –add a little more if necessary). It's usual to cook rice in water, but stock will make this taste extra nice.
Then cook it for as long as it says on the packet. Five minutes before the rice is ready, put the remaining tablespoon of butter in a medium frying pan over a high heat. Once hot, add the raw or precooked prawns, slices of jalapeno (if using), paprika, cumin and oregano along with a pinch of salt.
Cook for a couple of minutes, stirring regularly, until the prawns turn pink and are cooked through (if you are using raw prawns). Once the rice is ready, drain if necessary. Then add the cooked prawns to it along with the coriander (if using). Season to taste and serve with a lemon wedge.