Goat Cheese and Caramelized Onions Quiche
Imagine a buttery base stuffed with sweet caramelized onions, goat cheese and fresh thyme. Caramelized Onion Goat Cheese Quiche is a great recipie to breakfast or brunch guaranteed for your guests.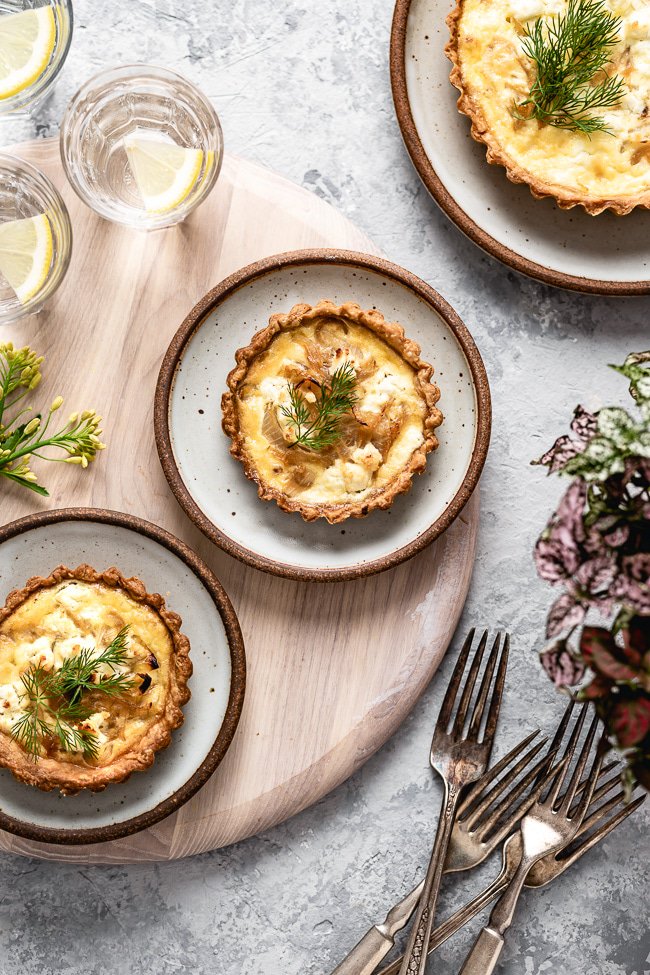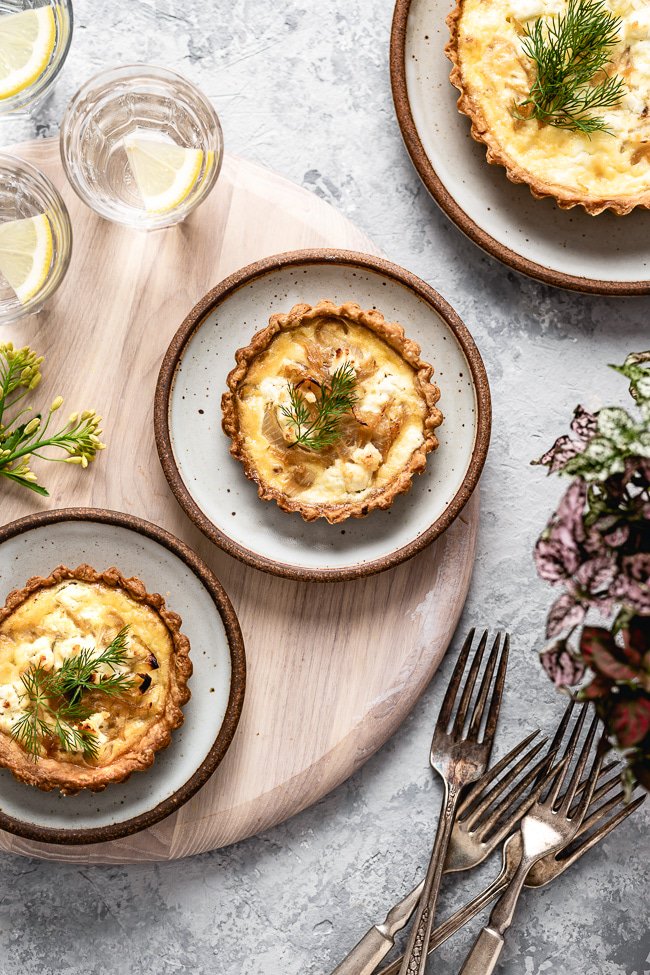 Instead of goat cheese, you can use mozeralla cheese or grated cheddar cheese. Alternatively, if you're serving meat, you can add bacon or ham in the filling. I would still prefer it with a light summer salad. I especially recommend the watermelon salad.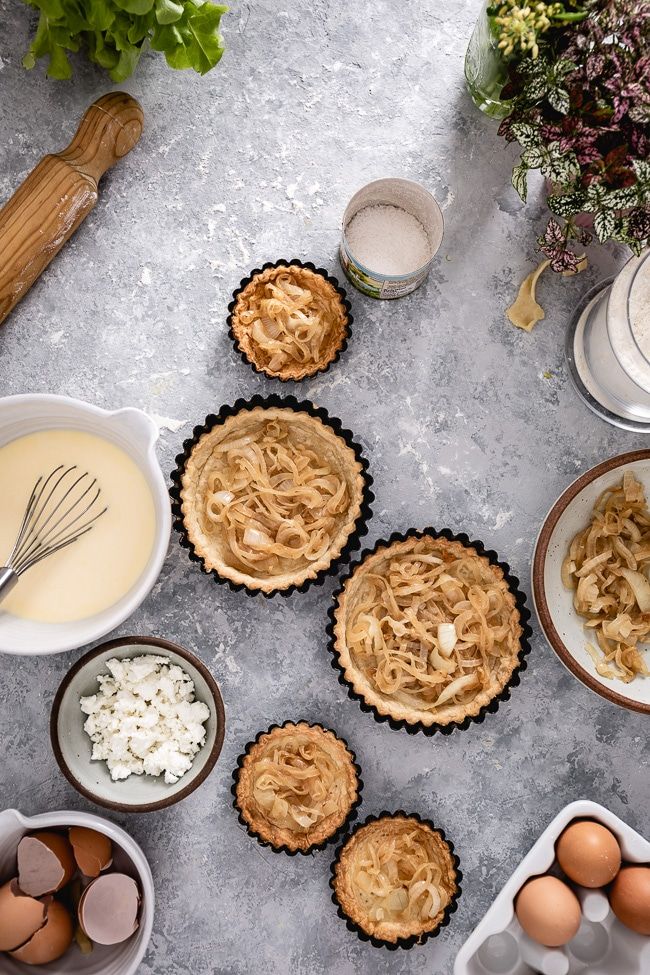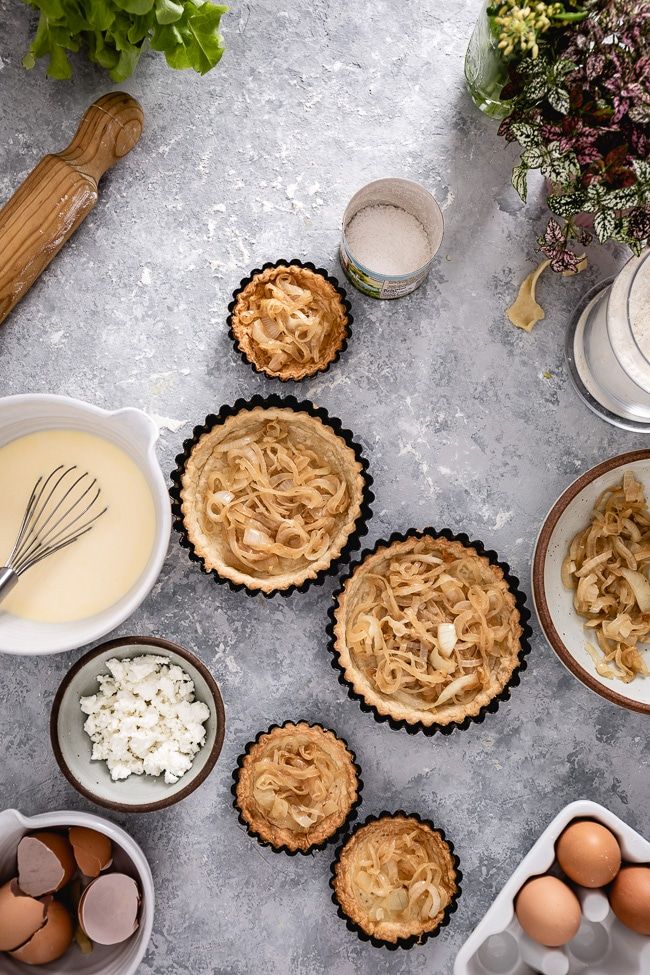 Can you freeze the quiche?
People with Goat Cheese and Caramelized Onions should be described roughly; We bake the tart, and spread the pieces of caramelized onion and goat cheese on it. We cover the egg with cream mixture and put it back into the oven.
If you wish, you can prepare the pieces of this recipe 1 day in advance and combine them just before cooking.
Tightly wrap the quiche dough in the stretch film and prevent it from breathing, for 2 months without baking, and after cooking for 1 month in the freezer. Of course, a mixture of caramelized onions and cream should be prepared fresh.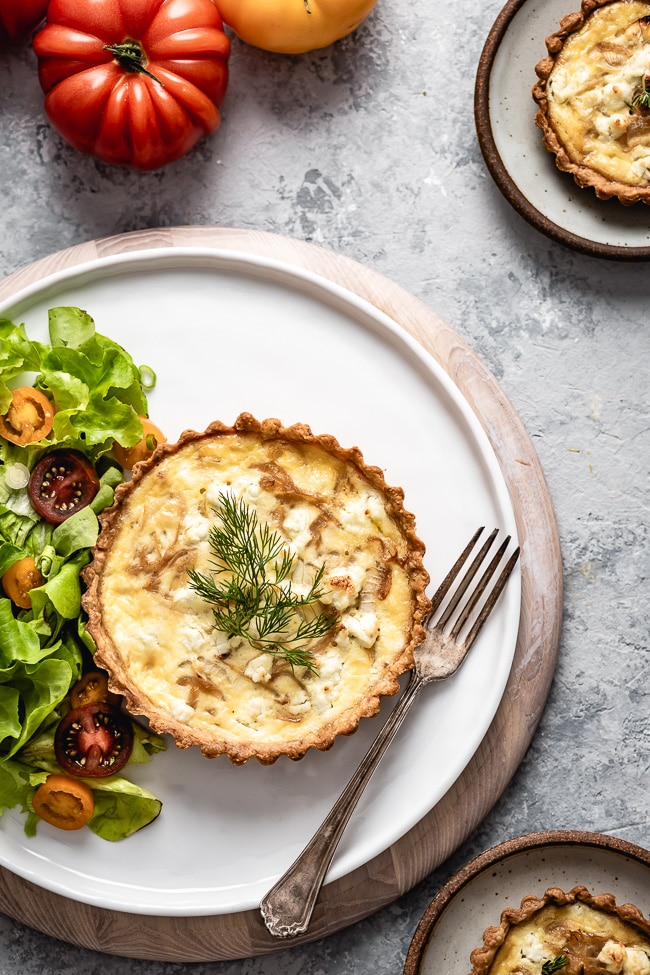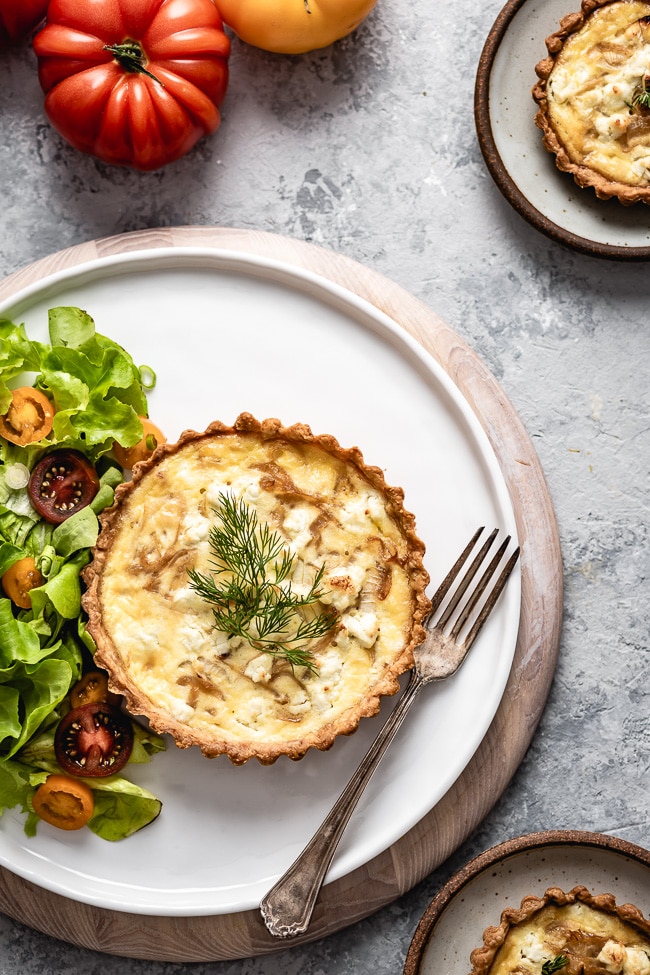 Ingredients
For The Crust:
4 teaspoon

s sour cream

4 tablespoon

s of ice water

1 1/4 cup

s (

6 1/4 ounce

s or 177 grams) all-purpose flour

1 1/2 teaspoon

s sugar

1/2 teaspoon

 salt

8 tablespoon

s unsalted butter, cut into small pieces and frozen for 

10

minutes
For The Filling:
1 tablespoon

 olive oil

2

 medium onions, sliced thinly into half-moon slices

1/2 cup

 heavy cream

1/2 cup

 whole milk

2

 large eggs and 2 egg yolks

1/2 teaspoon

 salt

1/4 teaspoon

 black pepper, freshly ground

2 tablespoon

s fresh thyme, chopped

4 oz

. fresh goat cheese, crumbled
Crust Steps
Mix sour cream and ice water in a bowl until combined. Set aside.
Place the flour, sugar, and salt into a food processor. Pulse 3-4 times to combine.
Scatter the small pieces of butter on the flour mixture and process for 10 1-second pulses until butter is the size of large peas.
Pour half of sour cream mixture over flour mixture and pulse until incorprated, about 3 pulses.
Repeat with the remaining sour cream mixture and pulse 3 more times.
Stop the machine and pinch the dough with your fingers. If it holds together, you are done. If not, add in 1 tablespoon of ice cold water and pulse until dough forms large clumps and no dry flour remains, 3 to 5 pulses.
Turn the dough into a 4-inch dish and wrap tightly with stretch film. Refrigerate for at least an hour or overnight.
Before rolling it out, let it sit on the counter for 10 minutes.
When ready to bake, pre-heat the oven to 375 F Degrees.
Roll it out on a floured surface into a 1/4 inch thick, 11-inch circle. Drape it over a 9-inch tart pan. Tuck the excess 1-inch pieces underneath itself to form a neat and even edge.
Cover it with plastic wrap and place it in the freezer for 15-20 minutes until fully chilled and firm.
Take it out of the freezer. Place two layers of aluminum foil over the dough and fill it with pie weights or 2 cups of dry beans.
Transfer it into the oven and bake for 30 minutes.
Remove the pie weights and the aluminum foil, and bake for another 5 minutes. Take it out of the oven and set it aside. Do not turn the oven off.
Filling and Assemble
While the crust is baking, heat 1 tablespoon of olive oil in a large skillet, in medium heat. Add onions, and stirring often, cook for 15-20 minutes or until they turn into golden brown. Set aside.
Mix together the heavy cream, milk, eggs, egg yolks, salt and pepper in a small bowl.
Scatter the crumbled goat cheese pieces, thyme, and caramelized onions over the pie crust. Pour the heavy cream, milk, and egg mixture over it.
Place it in the oven and bake for 30-35 minutes. When you first take it out of the oven it may look like the middle part of the quiche is not fully cooked. This is normal. It will continue to cook as it cools on the kitchen counter.
Allow it to cool for 10-15 minutes, slice, and serve while it is still warm.
Do you love cheese?