Viennese Potato Salad
Viennese Potato Salad is a type of side dish served in Austria with a famous Viennese Schnitzel. By the help of this recipe of  Viennese Potato Salad which is as famous as Viennese Schnitzel, your schnitzels will be more tasty. If you prefer to receive more information about Chives which is one of the most important ingredient of the recipe, you may read the article below.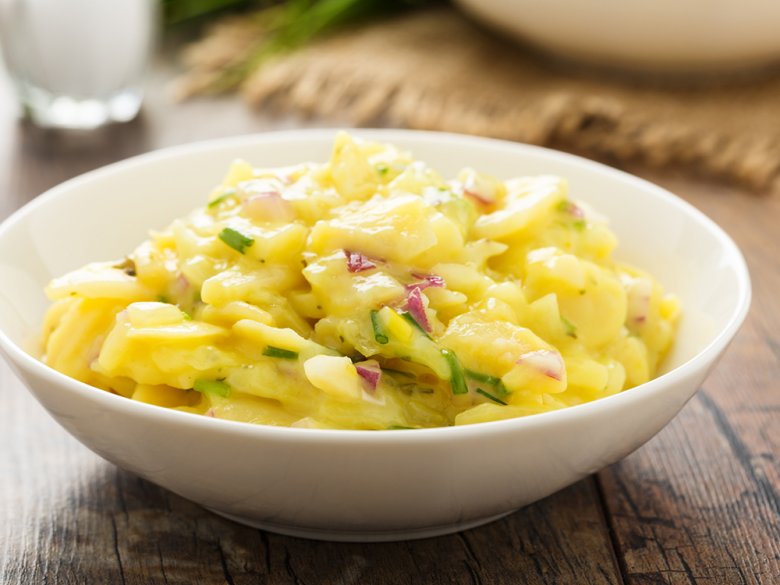 About Chives
Chives are type of onion that belong to the amaryllis family. They are native to temperate parts of Europe, Asia and North America. Chives are part of human diet at least 5.000 years (they were initially cultivated and used in China). Romans brought chives to Britain where these plants still grow wild near the Hadrian's wall (coastal wall in the north part of England built nearly 1.900 years ago in defensive purposes). Chives were very popular and often cultivated in Europe during the Middle Ages. This plant requires fertile, well-drained soil and plenty of sun for the successful growth. People cultivate chives as a source of food and in ornamental purposes.
Chives are rich source of vitamin K, C and folic acid and minerals such as manganese, magnesium and iron.
Chives are mostly consumed fresh. They are often used as ingredient of salads, sauces, soups and dishes made of cheese, eggs, potatoes, meat and seafood. Finely chopped leaves can be mixed with butter to improve its taste and aroma.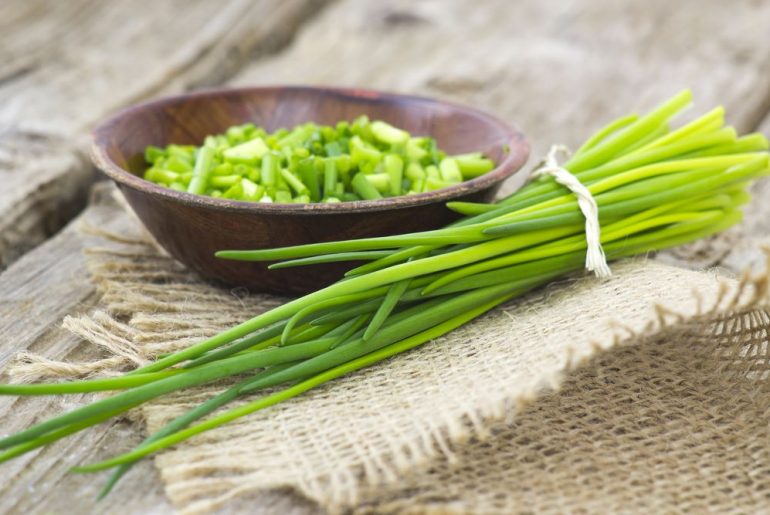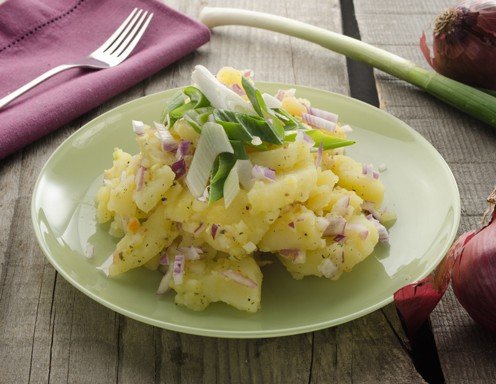 Ingredients
For Potato Salad;
500g Boiled Potatoes
1 red onion
5-6 chives
Mustard
For sauce;
150 ml Water
Salt
Sugar
Olive Oil
Apple Vinegar
Steps
1) First, the potatoes are boiled in boiling water for 20 minutes. Drain the water and let the potatoes cool.
2) In the meantime, the red onion can be peeled and cut into fine little cubes.
3) Then peel the lukewarm potatoes, cut into thin slices and place in a large salad bowl.
4) Then spread the onion cubes and add a tablespoon of mustard. Estragonsenf is particularly suitable for the preparation of potato salad due to its fine aroma.
5) For the dressing add oil, vinegar, salt, sugar with water (until the sugar and salt have dissolved), pour over the salad and stir well. It may be a bit fluid at the beginning, as the potatoes absorb the marinade. You may have to add some vinegar oil dressing before serving. This is where the taste decides.
Finally, the delicious salad is again seasoned with salt and pepper.
Viennese potato salad should always be used for several hours before serving. Before serving, mix a bunch of finely chopped chives with the potato salad.
Viennese potato salad is served in Austria with a Viennese Potato Salad . For observing more about the recipies of Steak Schnitzel and Chicken Schnitzel, please visit "Meats" page of our web site.