Panko-Crusted Baked Salmon
Panko-Crusted Baked Salmon is roasted like a pomegranate, and when it is served at the table, everyone loves it! You will get a perfect result with honey mustard, salmon bread crumbs and fresh greenery. Panko gives its name to meal. If you want more information about Panko, read the following article.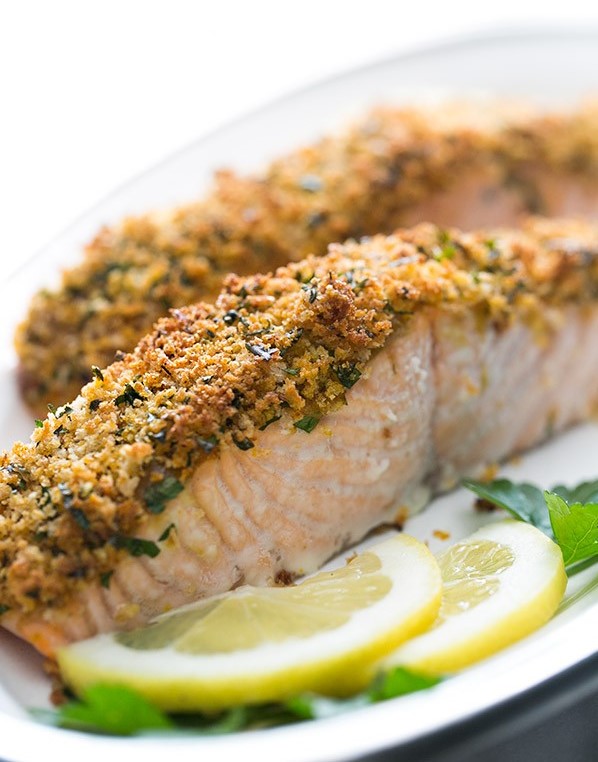 What is panko?
Panko is a kind of crispy bread crumb used in Japanese cuisine, such as tonkatsu, for frying dishes. It has a more crunchy and lighter structure than many bread crumbs in Western cuisine. Doria is used in the construction of many other dishes such as Korokke and Hambagu. In addition to Japan, it is becoming increasingly popular in Asian European and American cuisines.  We're cooking on the spicy crunchy panko fillets. And from the bottom of the panko crunch is the perfect softness, flaky and spicy salmon … Panko-Crusted Baked Salmon Recipe is very practical and ready in less than 30 minutes!
Ingredients
4 teaspoons olive oil
4 pieces thickly cut, boneless salmon (each 6 oz)
Salt and pepper to taste
2 Tbsp honey mustard or sweet-hot mustard
2 teaspoons chopped fresh thyme
2/3 cup panko bread crumbs
2 Tbsp chopped Italian parsley
1/2 teaspoon Hungarian sweet paprika
Steps
Preheat the oven to 400°F (convection or regular). Set the salmon on a foil-lined baking sheet skin side down. Sprinkle with salt and pepper.
In a small bowl, combine the honey mustard and 1 teaspoon of the thyme. In another small bowl, mix the panko with the remaining 1 teaspoon of thyme, 4 teaspoons of olive oil, parsley, and paprika. Add salt and pepper (a light sprinkle).
Using a small spoon, spread the mustard mixture on the salmon; top with the bread crumb mixture.
Roast the salmon for 12-14 minutes (test at 10) or until it is almost completely firm to the touch and flakes when poked with a fork. Serve at once.