Passionfruit Coconut Slices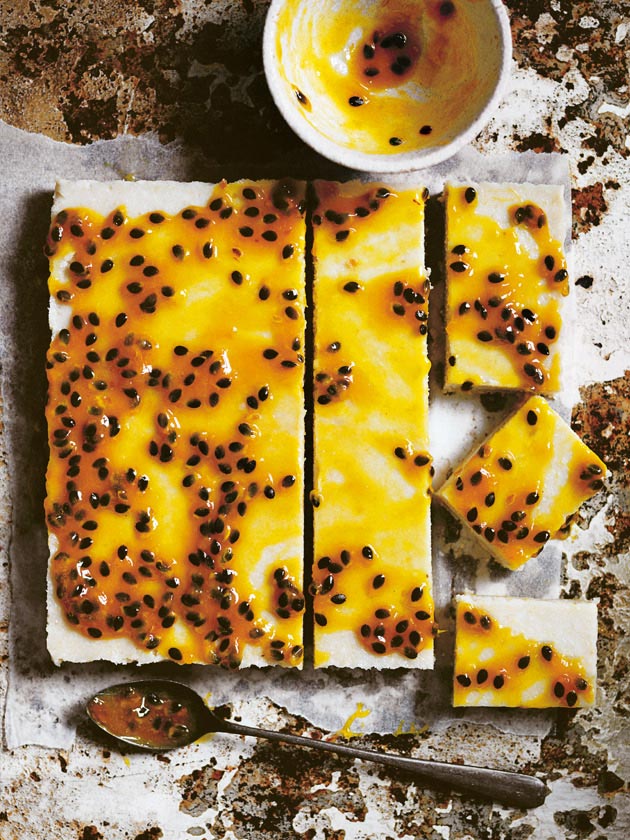 Ingredients
1 cup (150 gr) cashews
1 cup (250 ml) coconut milk
½ cup (125 ml) melted cocnut oil
¼ cup (90 gr) honey
¾ cup (60 gr) desiccated coconut
⅔ cup (180 ml) pssionfruit (Appoximately 10 passionfruits)
1 tablespoon honey, extra
NUT BASE
½ cup (75 gr) cashews
½ cup (70 gr) macadamias
1 cup (80 gr) desiccated coconut
2 tablespoons coconut oil
1 tablespoon honey
Steps
1) To make the base, place the cashews, macadamias, coconut, coconut oil and honey in a food processor and process until smooth. Press the mixture into the base of a lightly greased 20cm x 20cm baking tin lined with non-stick baking paper and refrigerate for 20 minutes.
2) Place the cashews, coconut milk, coconut oil, honey and coconut in a food processor and process for 3–4 minutes or until smooth and creamy. Pour the coconut mixture over the base and return to the refrigerator for 40 minutes or until set.
3) Place the passionfruit and extra honey in a small frying pan over high heat and cook for 4–5 minutes or until thickened. Allow to cool slightly.
4) Drizzle the passionfruit syrup over the filling and refrigerate for 2 hours or until set. Cut into squares and refrigerate until ready to serve.