Vanilla Ice Cream
Vanilla Ice Cream is a recipe everyone will love! This recipe is incredibly creamy and perfect! It's much better than buying in the store! This classic ice cream requires only a few ingredients and is enough to serve a crowded guests.
Take your ice cream to your favorite bowl. Serve with sweet sliced bananas, crispy nuts or hot chocolate sauce and salted caramel sauce. If you want to go further, you can crown it with whipped cream and cherry sugar.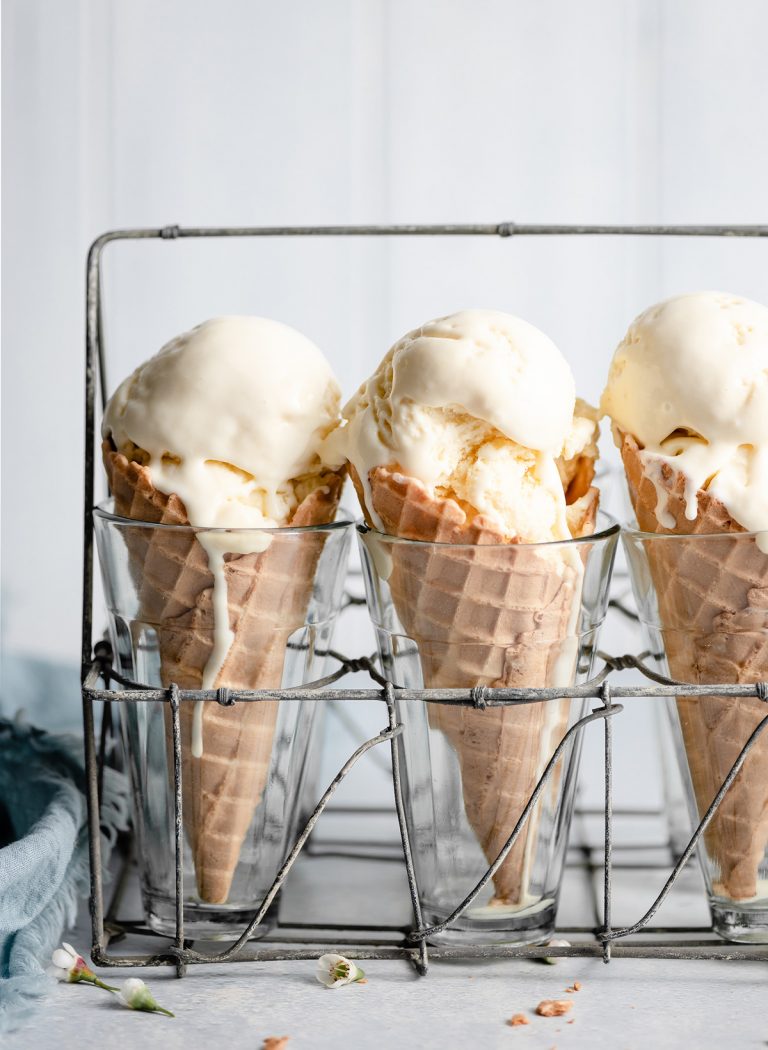 What is the ingredients of vanilla ice cream?
Cream and whole milk: cream and whole milk help create the soft creamy texture that we all love.
Granulated sugar: Sugar makes it easier to freeze the mixture as a whole, except that it helps sweeten the ice cream. The lower the freezing point of sugar, the more sugar you add, the easier it becomes to freeze.
Salt: Salt is used in each pinch. Adding salt to sweet recipes makes it easy to bring out all the rich flavors of the dessert.
Egg yolks: Egg yolks are an important ingredient that keeps ice cream soft and creamy. You can make recipes without egg yolks, but if you want really professional quality ice cream, be sure to use egg yolks.
Vanilla Extract: A vanilla ice cream without real vanilla would be a hubby ever:)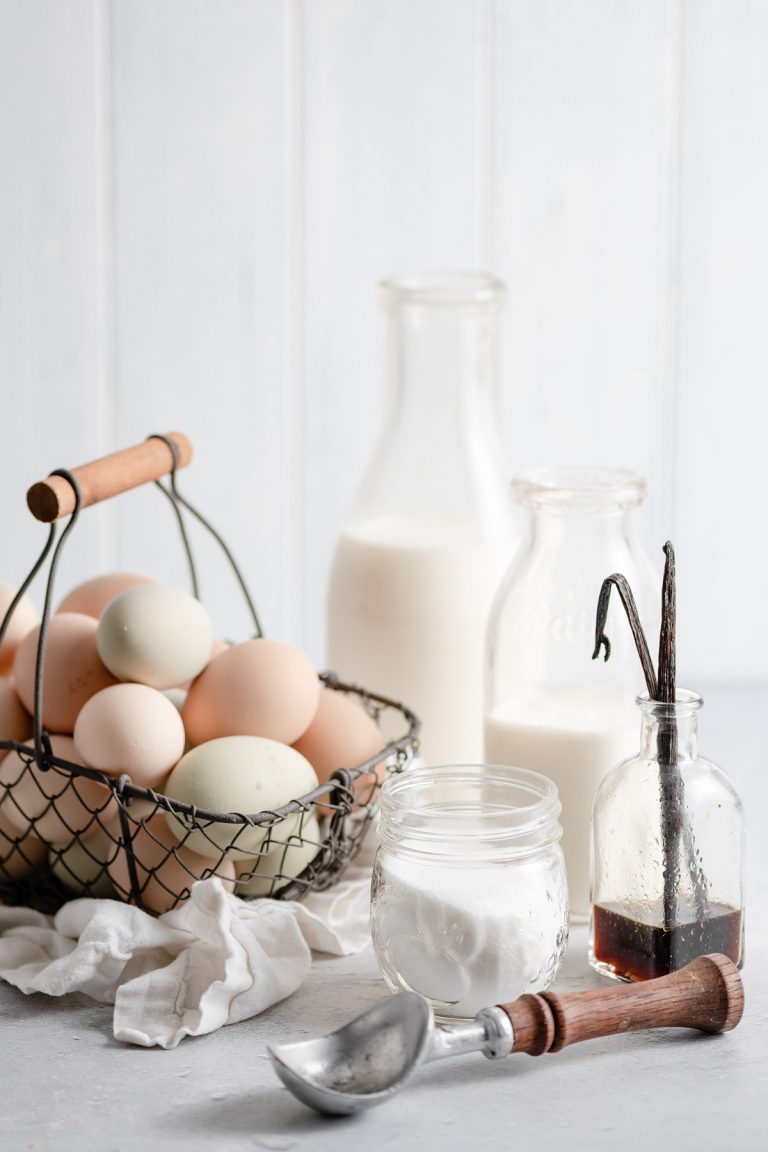 How to make vanilla ice cream?
You can find the detailed description below, but if you want to have an idea for the production in a few simple steps;
Heat cream and milk.
Temper the whipped yellows with a little warm milk.
Pour the eggs into the cream to get consistency.
Add the vanilla extract to room temperature.
Then start freezing in your ice cream machine.
Store in freezer.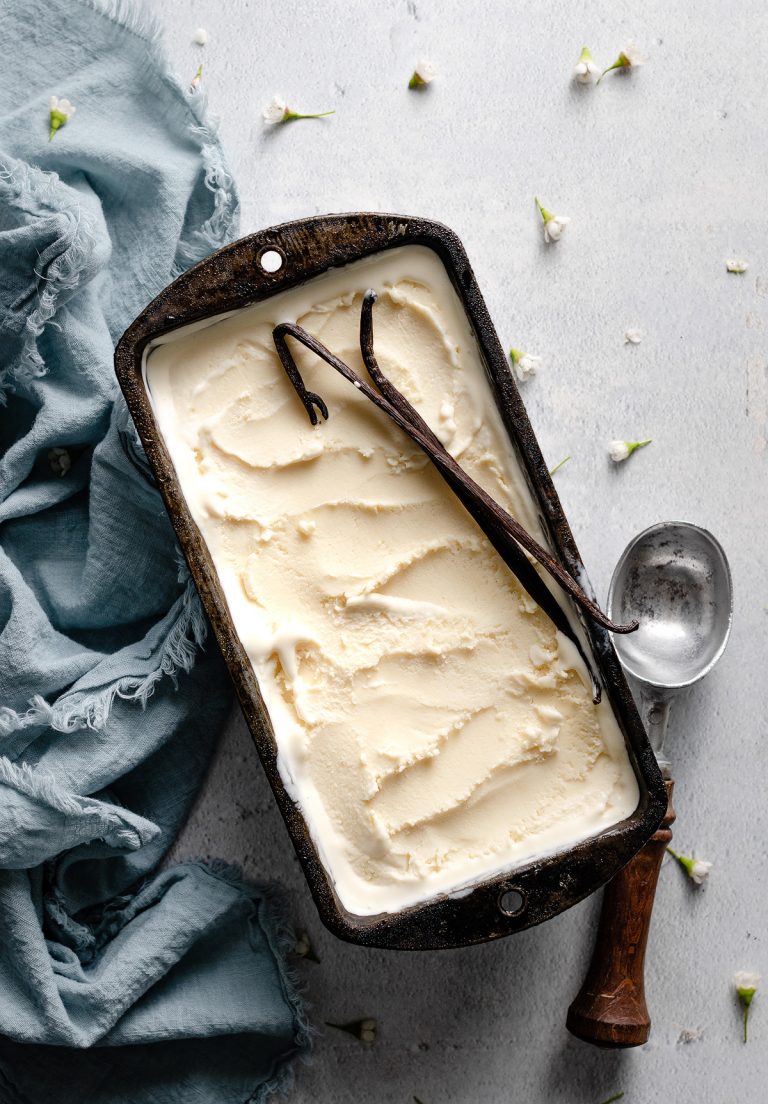 Ingredients
2 1/2 cups (590 ml) heavy cream
1 cup (235 ml) whole or 2% milk
3/4 cup (150 g) granulated sugar
1/8 tsp salt
6 large egg yolks
1 Tbsp vanilla extract
Steps
Pour heavy cream, milk, sugar and salt into a medium saucepan. Heat over medium heat, whisking frequently, until sugar has dissolved, about 5 minutes. Remove from heat.

In a mixing bowl whisk egg yolks until well blended. While whisking egg yolks, slowly pour 1 cup of the hot milk mixture into yolk then pour egg yolk mixture into saucepan while whisking mixture in saucepan.

Cook mixture over medium-low heat, stirring constantly with a heat proof spatula, until mixture reaches 180 degrees on an instant read thermometer and thickens slightly (mixture should coat the back of a wooden spatula). Remove from heat, stir in vanilla.

Pour mixture through a fine mesh sieve into a bowl. Let cool to room temperature stirring occasionally, about 30 minutes.

Cover with plastic wrap pressing directly against the surface of the custard mixture to prevent a skin from forming on top. Transfer to refrigerator and chill through, about 4 hours.

Churn mixture in an ice cream maker according to manufacturers directions until thickened (it should take approx. 25 - 30 minutes). Chill a container in the freezer during the last few minutes of processing.

Transfer ice cream to chilled container from freezer. Spread even. Place in freezer and freeze until firm, about 3 - 4 hours.
More ice cream recipie?