Strawberry Trifle
Strawberry Trifle in a big fat bowl and tipsy , and waiting for you to taste … Amiretti cookies and ameretti liqueur in the taste is getting stronger. If you are going to a table with children again, you can also use pineapple juice or orange juice instead of ameretti liqueur. To have some more fun, try firing the dessert before serving. It is very easy to ignite and the alcohol is exhausted. However, it may be necessary to extinguish the flame, but we recommend that you have a large cover nearby. The top cream with the flames will be slightly melted but you will still have a delicious taste!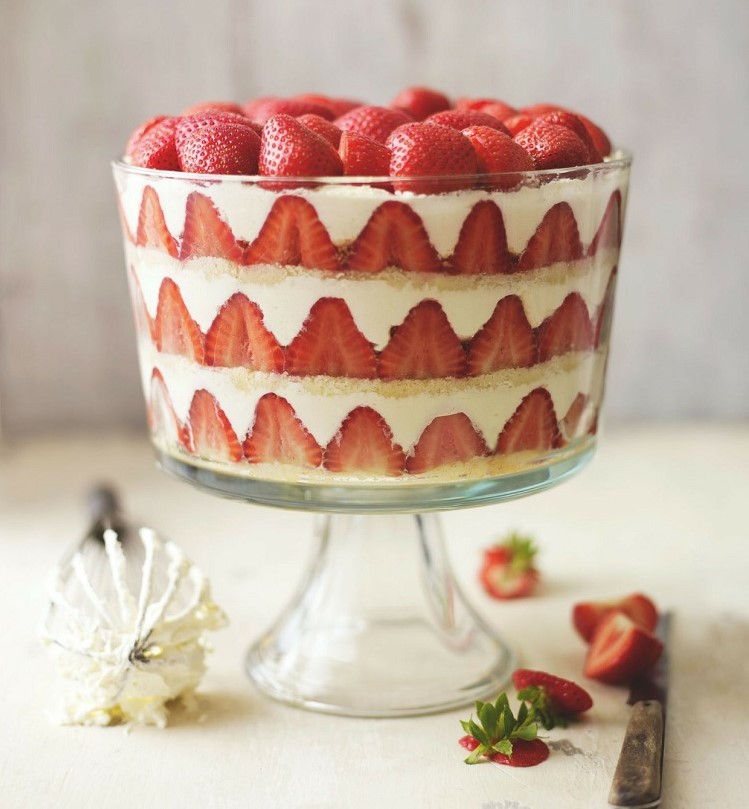 What is Trifle?
Trifle is a tradition that emerged in the 18th century (or perhaps earlier) in the UK. If we call it a masterpiece consisting of three or four layers of fruit, alcohol-soaked sponge cakes and custard, we don't have it. This dessert is always served in a round glass bowl. You can easily find this round bowl from the Paşabahçe stores or online site. Click for other fruit desserts …
Ingredients
2 x shop-bought Madeira loaf cakes
150 ml Amaretti, Cognac, Grand Marnier, Cointreau or any strong liqueur (optional) – useapple juice or orange juice if kiddies etc are eating. It won't flambé though.
800 g strawberries, hulled and cut in half lengthways
250 g amaretti biscuits, crumbled
Seeds of 1 vanilla pod or a few drops of vanilla extract
100 g icing sugar
900 ml double cream
200 g white chocolate, grated
Equipment Large trifle dish or glass bowl
Steps
Put the trifle dish on a large tray to make it easier to carry. Slice one of the Madeira cakes into 5mm slices and use a few of the slices to line the bottom of the dish. Make sure they are nice and tight and in a single layer, so squidge down any bits that are standing up too high. Brush the sponge with some of the alcohol of your choice, if using, then take a few strawberries that are roughly the same size, if possible, and turn one half upside down and put it on the outer edge of the cake so it is pressing up to the glass. Repeat all the way round the dish.
Sprinkle some crumbled amaretti biscuits on top of the cake mixture to a third of the way up the strawberries. Put the vanilla, icing sugar and cream in a bowl and whip until thick, almost like cream cheese but a little looser. Spread a third of the cream on top of the strawberries and crumbled biscuits and smooth it down flat with a spoon.
The cream should come up to only a couple of millimetres or above the level of the top of the strawberries. The amaretti biscuits do stick to the spoon while spreading the cream on, so I use a small knife to just scrape them off. Stand back from your evolving masterpiece and have a look to see if the cream is level. If it is not, use a piece of kitchen paper to wipe around the edge of the bowl, then sprinkle with a layer of grated chocolate. Now repeat each layer until the bowl is full, finishing with a layer of strawberries. Set aside.
For a bit of fun, try flambéing the trifle before serving it. Flambéing is very easy and the flames die out as soon as the alcohol has burnt out, but I always feel more comfortable with a large pan lid nearby just in case I need to put out the flame. The flame is similar to when a Christmas pudding is lit up or when a sambuca shot is lit by the barman. If using alcohol, you can carefully pour the alcohol over the trifle at the table and light it with a match. Sometimes it works, sometimes it doesn't, but it's fun to try. Let the flames die out before serving the trifle. The top layer of cream will have melted a little but it will still taste delicious!