White Chocolate Caramel Crunch Cookies
White Chocolate Caramel Crunch Cookie is coated with the demerara sugar. Baked sugar melts white chocolate chip cookies with caramel flavor. You can buy Demerara Sugar from the link. If you say that it is not worth the effort, you can use brown sugar instead.
What is Demerara Sugar?
There are several kinds of brown sugar: Muscovado, Turbinado, Demerara. Demerara sugar is golden brown, has a sticky, hard and coarse texture. (South America) is flowing in the valley valley where it gets its name. Darker than brown sugar.
White Chocolate Caramel Crunch Cookies on the recipe we used to taste the sugar gives a caramel taste. If you don't have sugar in your hand, you can use brown sugar but we recommend using white sugar.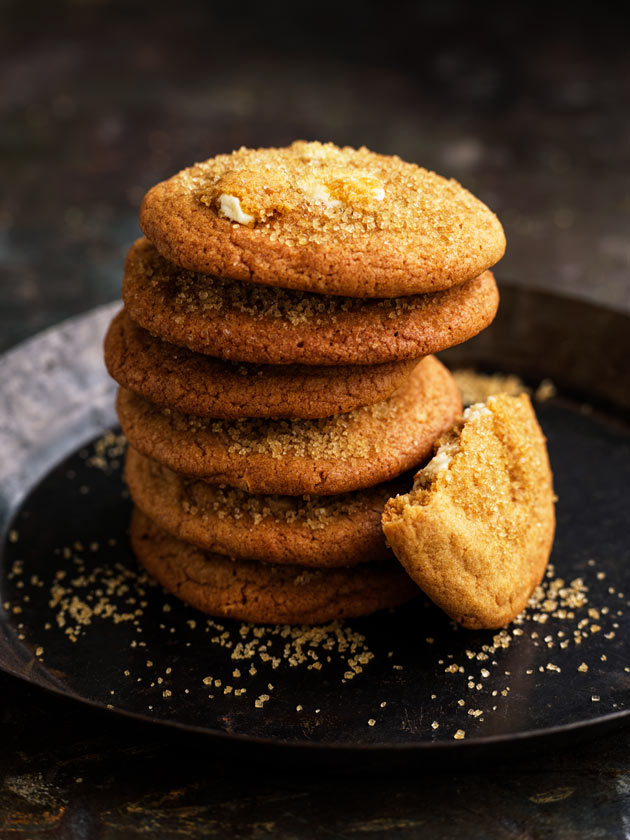 Ingredients
125 g unsalted butter, softened and chopped
½ cup (120 g) firmly packed brown sugar
½ cup (110 g) caster sugar
1 egg
2 teaspoons vanilla extract
1½ cups (225 g) plain flour
½ teaspoon bicarbonate of baking soda
120 g white chocolate, roughly chopped
½ cup (110 g) demerara sugar
STEPS
Preheat oven 160°C (325°F). Place the butter and sugar in the bowl of an electric mixer and beat for 8–10 minutes or until light and creamy.
Add the egg and vanilla and beat until well combined. Add the flour and bicarbonate of soda and beat until just combined.
Fold through the chopped chocolate. Roll heaped tablespoonfuls of the mixture into rounds and flatten slightly. Press the tops in demerara sugar until they are coated, then place on baking trays lined with non-stick baking paper, allowing room for spreading.
Bake for 12 –15 minutes or until lightly golden. Allow to cool on the trays and serve.
Do you looking for more cookie recipies?