Almond and Honey Cornmeal Cake
I love it when I can add a little easy cake recipe to my history. Honey Almond Cake is one of these recipes. No frost, no layering, no fuss, but there's still a great cake for your dinner table. Cornmeal cakes are great and the mesh almonds that cover this cornmeal cake make it look very rustic. The honey on it gives the brightness of its appearance and its flavor. After leaving the oven 1 spoon of honey will strengthen its taste. Drizzling honey just before serving will provide to serve more brightness view.
When you take a fork from the Honey Almond Cake and throw it in your mouth, you will find a great cake in the mouth, delicious crispy almonds and marvelous hone taste…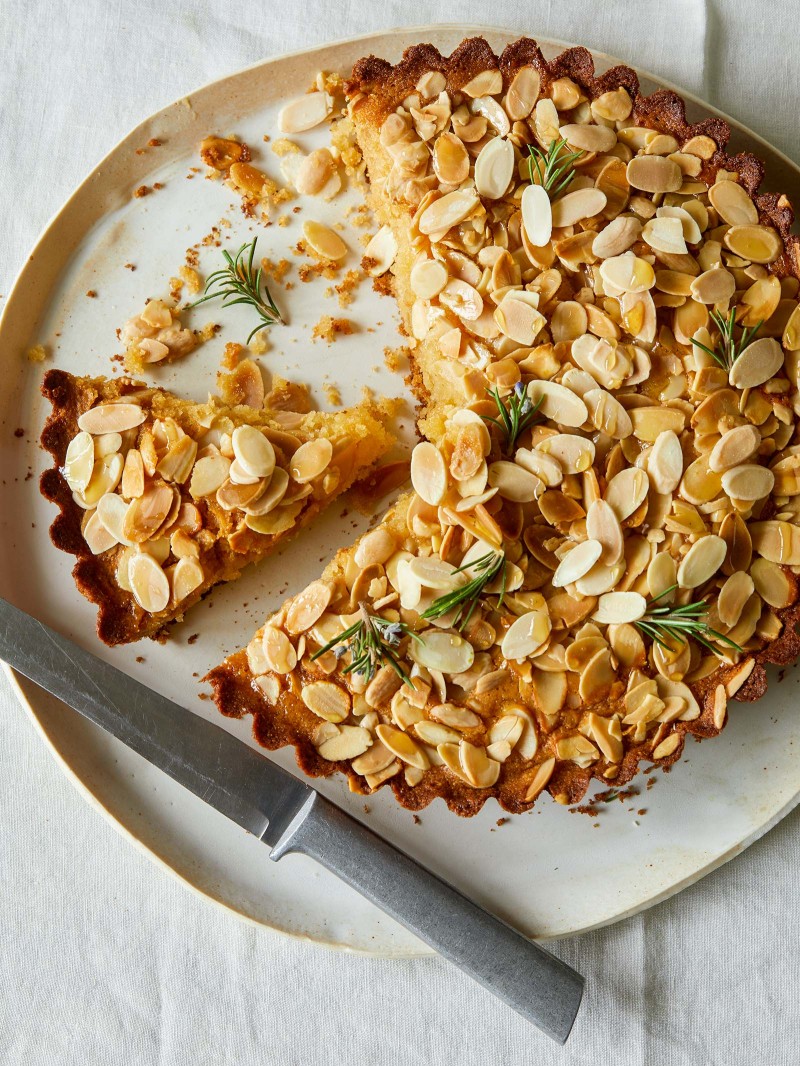 Ingredients
3/4 cup fine ground yellow cornmeal
1/3 cup all purpose flour
1 teaspoon baking powder
1/2 teaspoon salt
1/2 cup (1 stick) unsalted butter, softened
2/3 cup sugar
1/4 cup almond paste
1/4 cup plus 2 tablespoons honey, divided
2 large eggs
1/2 cup plus 2 tablespoons whole milk
1 1/2 teaspoons minced rosemary, optional
1 teaspoon vanilla extract
zest of 1 Meyer lemon
1 cup thinly sliced almonds
rosemary sprigs, optional garnish
Steps
Preheat oven to 375˚F.
Lightly grease the bottom and sides of an 8" spring form pan and set aside.
Pour cornmeal, flour, baking soda, and salt into a mixing bowl and whisk together. Set aside.
In another mixing bowl beat butter, using an electric mixer, until light and fluffy.
Scrape down sides of bowl, add sugar beat together.
Add almond paste and 1/4 cup honey and continue to beat together until fully incorporated.
Add eggs, one at a time, and continue to mix together.
Stir half dry mixture into wet mixture, followed by milk, and then remaining dry mixture. Stir together until completely combined and no lumps are lefts.
Scrape down sides of bowl and fold in rosemary (if using), vanilla and lemon zest into the batter.
Pour batter into prepared spring form pan, spreading to create an even surface and transfer pan to a baking sheet.
Sprinkle an even layer of almonds over cake, to cover completely. Cover spring form pan with foil and bake on center rack for about 40 minutes.
Remove foil, lower temperature to 350 and continue to bake cake for an additional 10 to 15 minutes or until almonds have toasted and a wooden skewer comes out clean when inserted into center of the cake.
Remove cake from oven, drizzle with 1 tablespoon honey and cool for at least 1 hour.
14. Once cake has cooled, unmold from pan, drizzle with remaining honey, top with rosemary sprigs (if using), slice and serve.