Home Made Nutella
Home made nutella content; raw huzelnuts, raw cocoa powder and unrefined coconut sugar are used and quality materials are used very quickly.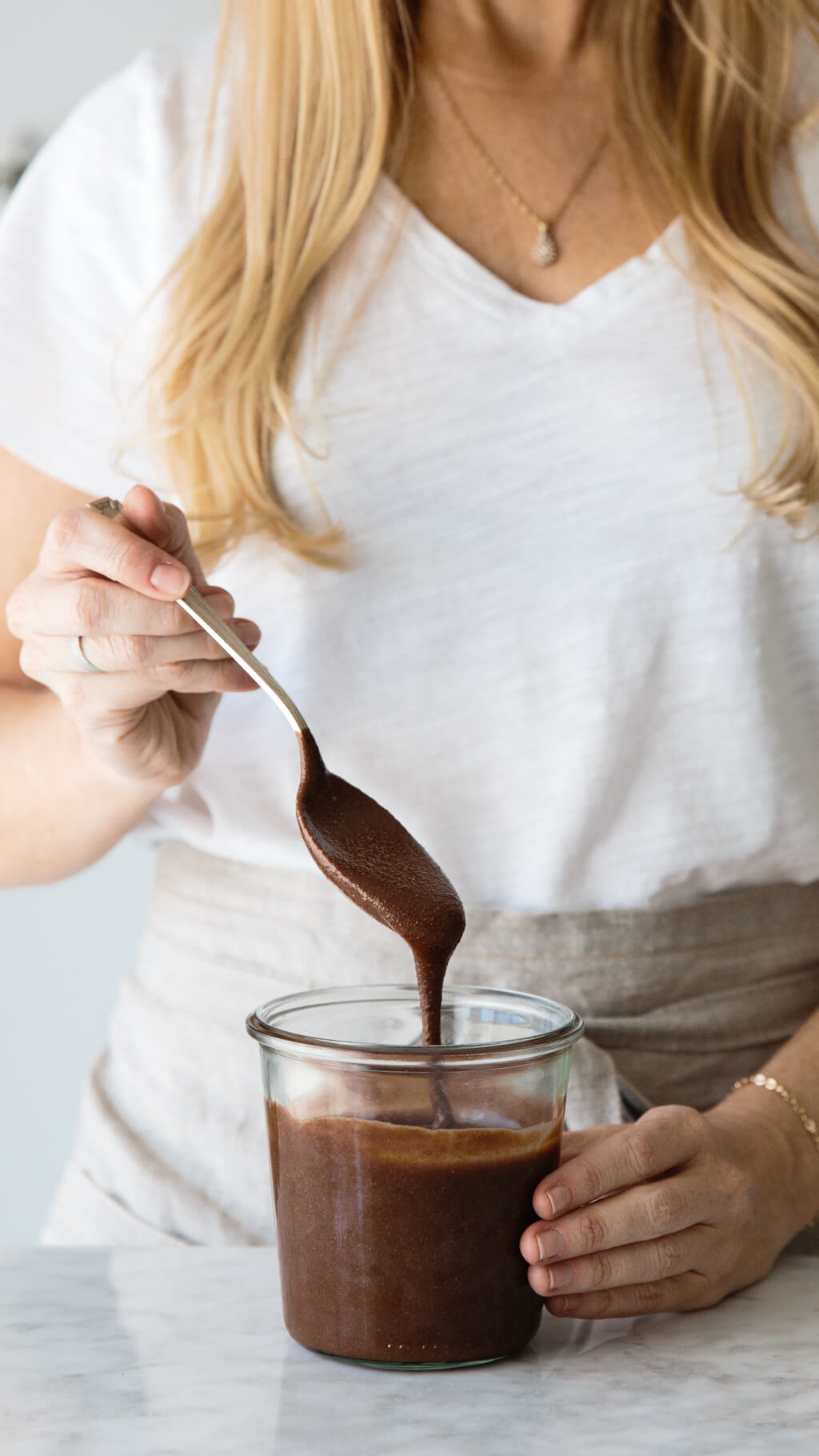 "nutella" and "healthy" in the same sentence?
Isn't it strange that the words "healthy" and "nutella" are used in the same sentence? But homemade nutella starts with fried nuts (which makes your home smell great) and contains raw cocoa powder, known for its powerful antioxidant benefits. Why is raw cocoa powder exactly different? Raw cocoa powder is produced from cold pressed roasted cocoa beans. This process protects all living enzymes and gives you a pleasant raw cocoa powder filled with nutrients and antioxidants.
Of course, our nutella is flavored with homemade coconut sugar. This is a short note about the sweetener of homemade nutella. You can often replace coconut sugar with maple syrup, but do not change it in this recipe. If you try, you'll see that your homemade nutella doesn't hold consistency, doesn't spread enough. I've even tried to refine it with oil and water, but it's never returned to the perfect consistency of this version. So make your recipe with coconut sugar or organic powdered sugar.
Ingredients
2 cups raw hazelnuts
2 tbsp coconut oil or hazelnut oil
2/3 cup coconut sugar
1/3 cup raw cacao powder
1 tsp vanilla extract
pinch of sea salt
Steps
Preheat your oven to 350 degrees fahrenheit.

Place the hazelnuts on a sheet pan and spread them out. Cook for 10-12 minutes, or until the skins become dark and cracked.

Let the hazelnuts cool to the touch, then transfer them to a kitchen towel and rub them until the majority of the skins have been removed.

Place the hazelnuts into a 

food processor

 and blend for 5-6 minutes, or until you have a creamy hazelnut butter. Add the oil and blend for another minute.

Add the sugar, cacao and vanilla and blend until fully combined. If you can powder the coconut sugar in a spice grinder before combining, even better.

Pour the nutella into a storage container (where it will firm up slightly as it cools) or enjoy immediately.
More breakfast recipies?