Chicken Lasagna Roll up
"Chicken Lasagna Roll up" is different from a traditional lasagna dish. The best of this recipe is not like a lasagna as well. The first plus of this situation is very helpful in portion control. In addition, the standard lasagna service solves the problem of shattered images.
In Chicken Lasagna Roll up recipe, we preferred cream instead of flour and milk combination. Before you are added to the roasting before the flour is obtained is also creamy. However, you always prefer boiled and condensed cream …
Salt and pepper are the basic choice in spice selection … Sliced ​​hot pepper, a slight cumin smell can also add a different taste to your recipe. It depends entirely on your taste and imagination …
The varieties of chicken in this recipe is not an auxiliary food and put it into the main course, if you complement it with a big bowl green salad and a glass of lemonade next to you … (How about trying our vodka-thyme lemonade?)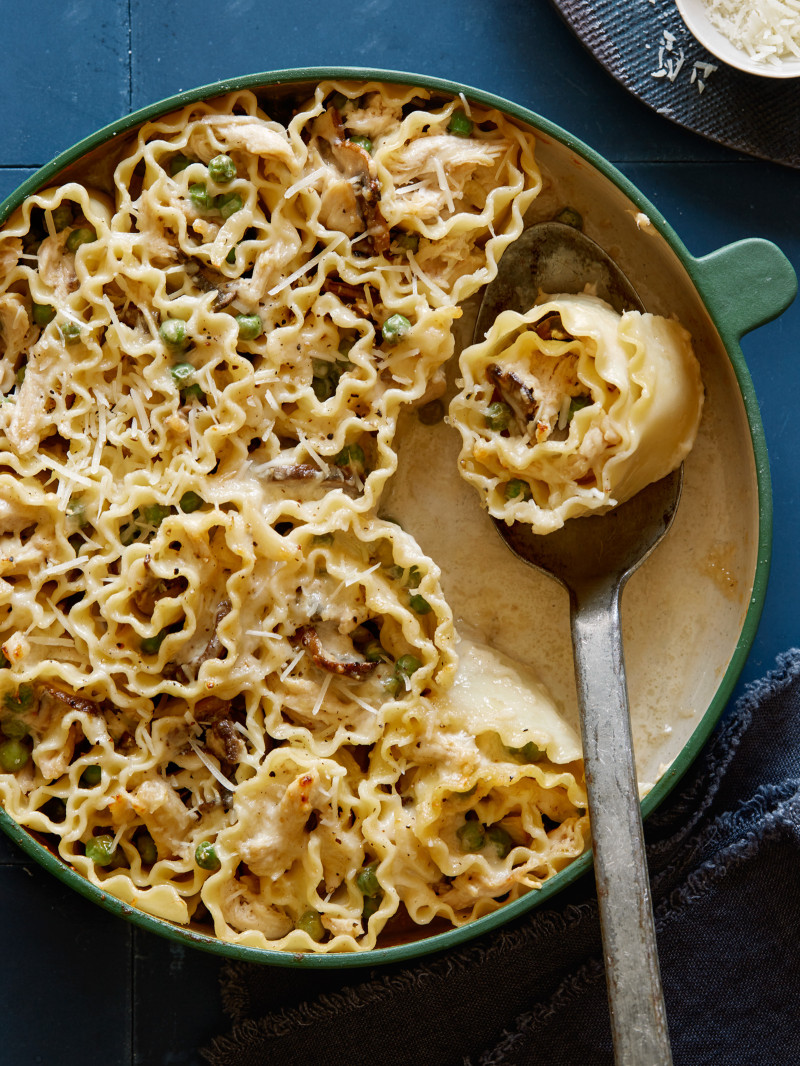 Ingredients
2 cups shredded chicken
1 cup freshly steamed English peas
4 tablespoons unsalted butter
8 ounces thinly sliced shitake mushrooms
3 garlic cloves, minced
1/4 small yellow onion, diced
2 1/2 cups heavy cream
8 ounces grated Parmesan, divided
12 dry lasagna sheets (with fluted edges), boiled
Steps
Preheat oven to 375˚F.
Pour chicken and peas into a large mixing bowl and toss together.
Place 1 1/2 tablespoons butter in a large skillet and place over medium-high heat. Add mushrooms and saute for 2 to 3 minutes. Season with salt and pepper and add to the chicken and peas.
Add remaining butter to the skillet and add garlic and onions and sauté for 2 to 3 minutes.
Pour cream into the mixture and lower the heat to medium-low and simmer. Season with salt and pepper and continue to simmer until the cream reduces by 1/2 cup.
Once the cream has reduced, begin whisking in Parmesan, 1/2 ounce at a time, until all about 6 ounces of Parmesan has been added and the sauce is smooth.
Season with salt and pepper and continue to simmer the sauce until it thickens enough to coat the back of a wooden spoon.
Reserve 2/3 cup of the alfredo sauce and pour the remaining sauce over the chicken and pea mixture and fold together. Adjust seasonings.
To assemble: Pour reserved 2/3 cup alfredo sauce into the bottom of an 8"x8" baking dish and set aside. Pace a cooked lasagna sheet onto a clean surface and top with a layer of the creamy chicken mixture.
Tightly roll the lasagna sheet up completely. Carefully place it into the prepared baking dish, spiral side-up. Repeat until all of the sheets and filling have been used and snuggly fit into the baking dish.
Sprinkle the top of the dish with the half of the remaining Parmesan and place baking dish in the oven for about 25 minutes. Remove from oven, top with remaining Parmesan and allow the dish to cool slightly.