Lamb Kebabs with Herbed Yogurt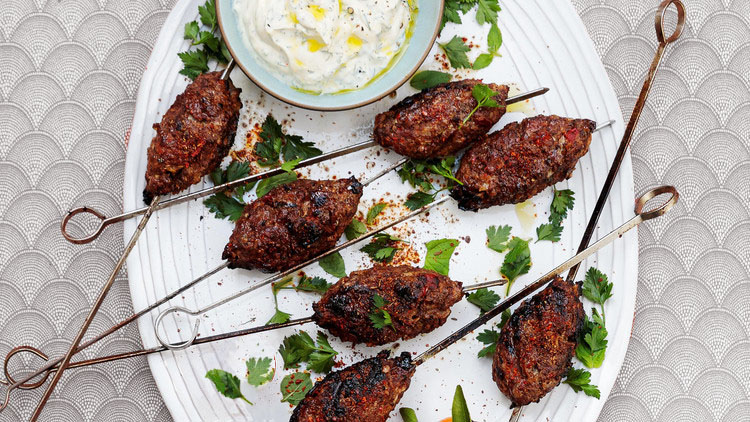 Ingredients
3 tablespoons sumac
4 teaspoons ground cumin
4 teaspoons ground coriander
2 tablespoons ground Aleppo pepper
2 pounds ground lamb (85 percent lean)
1 white onion, finely chopped (1 1/2 cups)
1 tablespoon minced garlic (from 3 cloves)
2 tablespoons finely chopped fresh cilantro
2 teaspoons finely chopped
Fresno chile
Kosher salt
1/2 cup finely chopped fresh parsley or dill, or both
1 cup plain yogurt (not Greek)
1 teaspoon finely grated lime zest, plus 1/2 teaspoon fresh juice
Steps
1) Combine sumac, cumin, coriander, and Aleppo pepper. In a large bowl, combine 1/4 cup mixture, lamb, onion, garlic, cilantro, chile, and 2 tablespoons salt; thoroughly incorporate with your hands. Refrigerate, covered, at least 3 hours and up to 1 day.
2) Herbed Yogurt: Stir parsley and dill into yogurt. Add lime zest and juice; season with salt. (Can be made-ahead and refrigerated in an airtight container up to 3 days.)
3) Preheat a grill to medium-high. Working with about 1/3 cup at a time, form mixture into roughly 3-inch ovals; thread onto skewers. (You should have about 16 kebabs.) Transfer to a tray lightly coated with oil; turn kebabs to lightly coat all sides. Grill, turning occasionally, until charred in spots and a thermometer inserted in thickest parts reaches 140 degrees, 10 to 12 minutes. Dust with remaining spice mixture. Drizzle Herbed Yogurt with olive oil and serve with the kebabs.