Chicken and Broccoli with Dill Sauce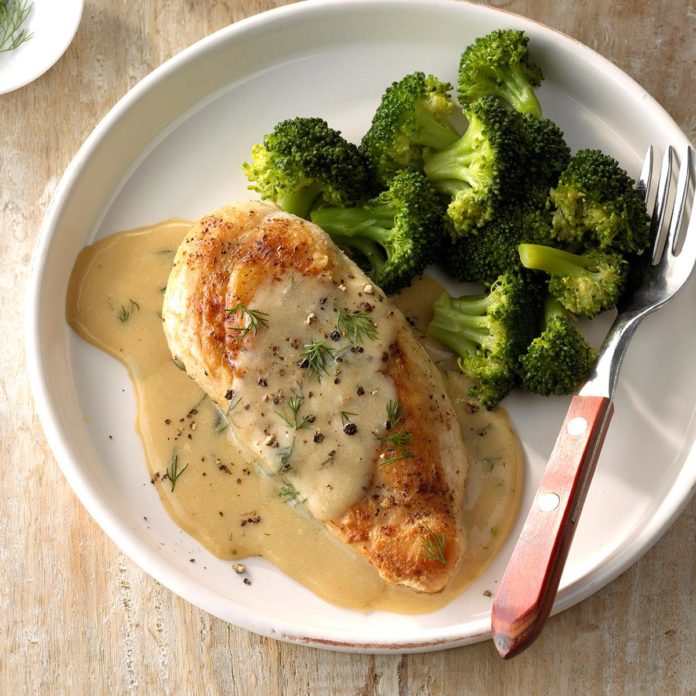 Ingredients
4 boneless skinless chicken breast halves (6 ounces each)
1/2 teaspoon garlic salt
1/4 teaspoon pepper
1 tablespoon olive oil
4 cups fresh broccoli florets
1 cup chicken broth
1 tablespoon all-purpose flour
1 tablespoon snipped fresh dill
1 cup 2% milk
Steps
1) Sprinkle chicken with garlic salt and pepper. In a large skillet, heat oil over medium heat; brown chicken on both sides. Remove from pan.
2) Add broccoli and broth to same skillet; bring to a boil. Reduce heat; simmer, covered, until broccoli is just tender, 3-5 minutes. Using a slotted spoon, remove broccoli from pan, reserving broth. Keep broccoli warm.
3) In a small bowl, mix flour, dill and milk until smooth; stir into broth in pan. Bring to a boil, stirring constantly; cook and stir until thickened, 1-2 minutes. Add chicken; cook, covered, over medium heat until a thermometer inserted in chicken reads 165°, 10-12 minutes. Serve with broccoli.