Raspberry Glaze and Lemon Cake
Making Lemon Cake is always easy. However, with the appearance and taste of the raspberry sauce that you will add to an ordinary lemon cake, we are sure that you will surprise everyone around you. We use coconut milk very often in our recipes. (If you want to try the other coconut recipes, you can reach them by clicking here.) This cake (Raspberry Glaze and Lemon Cake) recipe leaves the coconut fragrance and soft tissue generously. We are confident that when you mix with the slightly rancid taste of the raspberry, you and your guests will have a taste that will be loved. You can still try Raspberry Glaze and Lemon Cake with lemon sauce or mango sauce other than the raspberry sauce.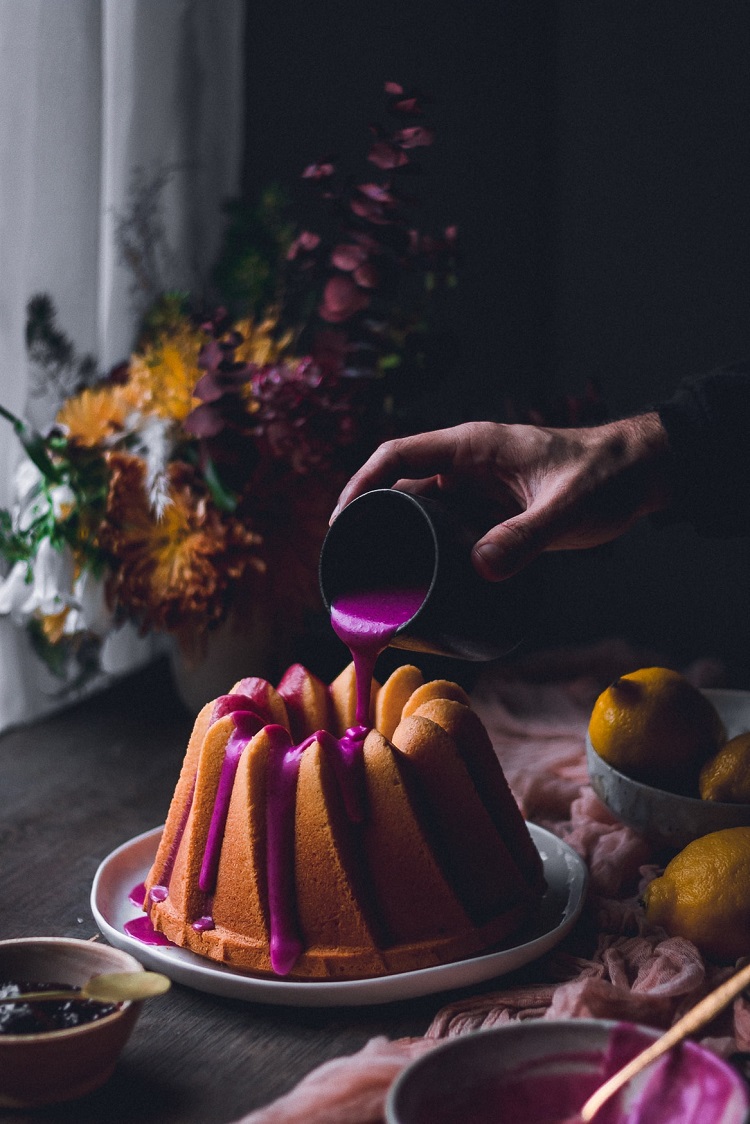 How to make Raspberry Glaze?
You can prepare an effortless sauce with raspberry powder. Powders are now more easily available in the market. As for our easy raspberry sauce; Mix 50 g powdered sugar, 1 teaspoon powdered raspberry, 1 tablespoon lemon juice and 1 drop of purple food coloring in a bowl until the sugar melts. You should use your sauce immediately for your cake.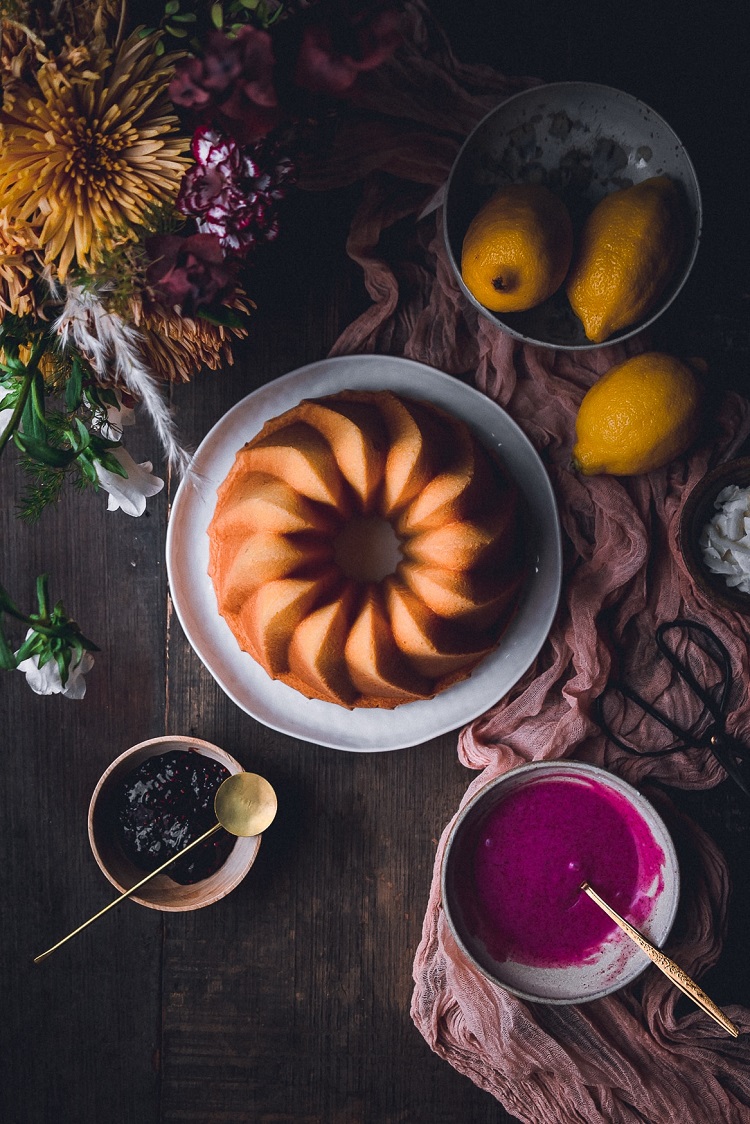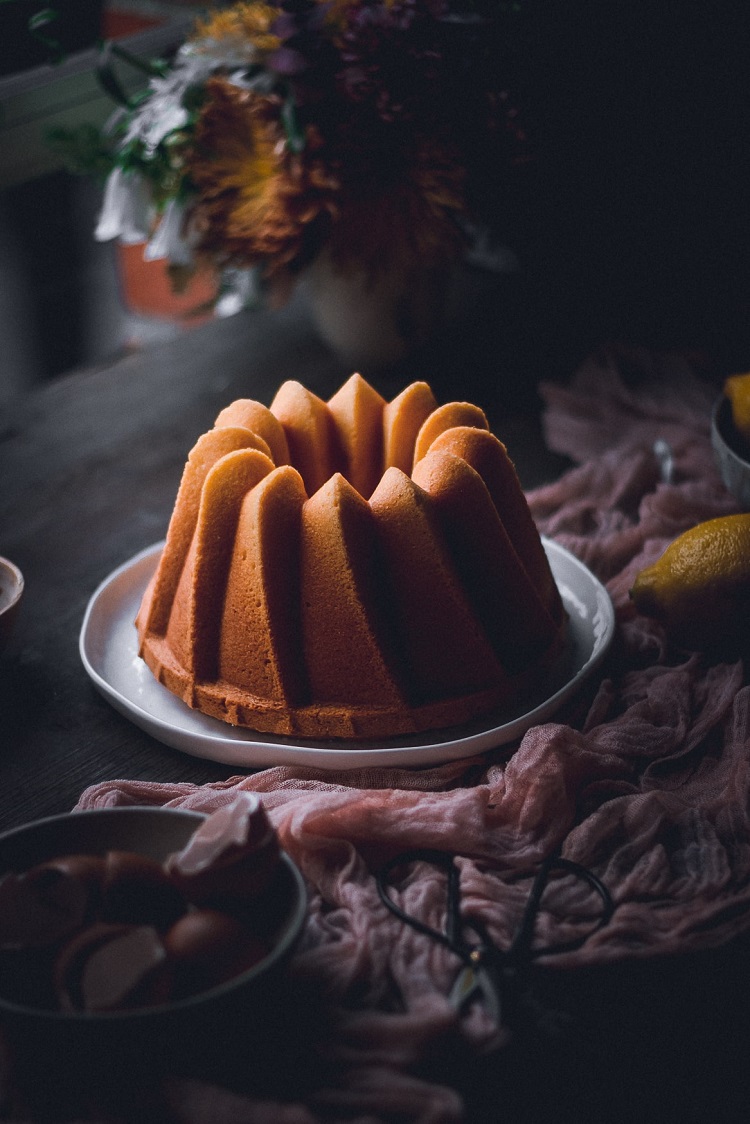 Ingredients
350 g cake flour
2 tsp baking powder
1 tsp salt
250 g sugar
250 g unsalted butter at room temperature
3 eggs
250 g coconut milk
50 g lemon juice
2 tsp lemon zest
Steps
Preheat oven to 325°F / 160°C.
Brush the inside of a bundt cake pan with soft butter; set aside. ( I used the Kugelhopf Bundt Pan from Nordic).
Sift flour, baking powder and salt and mix with lemon zest; Set aside.
Stir together Coconut milk and lemon juice; Set aside.
Beat butter on medium-high speed for about 5 minutes or until pale. Add sugar and continue beating a few minutes until creamy and fluffy.
Add eggs and continue beating ( one at the time).
Add the flour mix in three batches and beat to combine pouring slowly some of the coconut milk mixture.
Beat on low speed just to integrate the flour and the mixture becomes smooth. No more than 2 minutes.
Pour the batter evenly into the Bundt Cake Pan; pouring from the same side all the time; flat the top using a spoon and gently push the pan against the surface just to eliminate any airbubbles from the bottom.
Bake for 1 hour aprox. until top looks golden brown or until a toothpick inserted comes out clean.
Take out from the oven and let cool on rack for 10 minutes and invert onto greased wire racks.