Strawberry Cookies
Strawberry Cookie is one of the most special recipes you can make before the strawberry season! The cookie is very easy to prepare. Strawberry Cookie dough is prepared quite quickly. In addition to the dough I added some chopped pistachios and pumpkin seeds. Of course, Strawberry Cookie dough with other nuts, oatmeal, and so on. You can also add. The cookie was a bit hard at first, but don't worry! After the delicious strawberry cookie is baked, you will love them and eat them to their last crumb!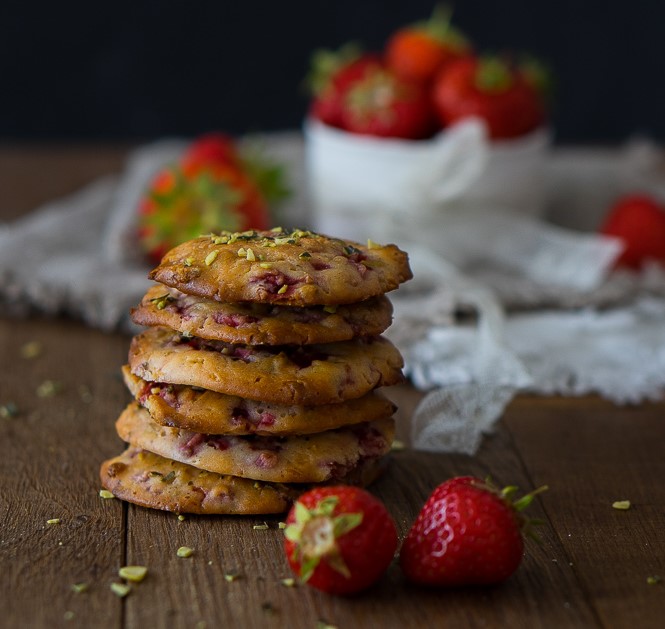 Ingredients
160 g of flour
½ tsp baking powder
1 pinch of salt
60 g butter (room temperature)
120 g cream cheese
100 g of sugar
1 egg
Mark 1 vanilla pod or from the mill
8 medium-sized strawberries
2 teaspoons lemon juice
Lemongrass 1 organic lemon
150 g white chocolate
1 tablespoon chopped pumpkin seeds
1 tablespoon chopped pistachios
2 teaspoons flour for the strawberry pieces
Steps
Thoroughly wash the strawberries, prepare and cut into small pieces. Coarsely chop or grate the chocolate and put both aside.
Put the flour together with a pinch of salt and the baking powder in a bowl and mix everything together.
Put the room-warm butter together with the egg, the cream cheese, the lemon and the sugar in a sufficiently large mixing bowl and mix everything together foamy and add the flour mixture.
Lift the previously grated chocolate pieces and a portion of the pistachios and pumpkin seeds (about half) under the mass.
Drizzle the strawberry pieces with the lemon juice, turn into 2 teaspoons of flour and stir gently under the dough.
Put the dough in the fridge for about an hour. In the meantime, cover two baking trays with baking paper and preheat the oven to 180 ° C / top heat.
The cookie dough from the fridge and with a spoon about 10-12 Teighäufchen spread (with sufficient distance from each other) on the prepared baking sheets.
Sprinkle the remaining pistachios and pumpkin seeds over the dough pieces and bake the cookies on a medium rack for about 15 minutes until golden brown.
Take the finished cookies out of the oven and let them cool down for a short time.
To cool down completely, add the strawberry cookies in addition to a wire rack.