Apple Rose Tart
Your guests will enjoy this wonderful looking tart. Apple rose tart consists of a sweet base with walnuts, a silky cream filling and wonderful roses made from apples. And gluten-free!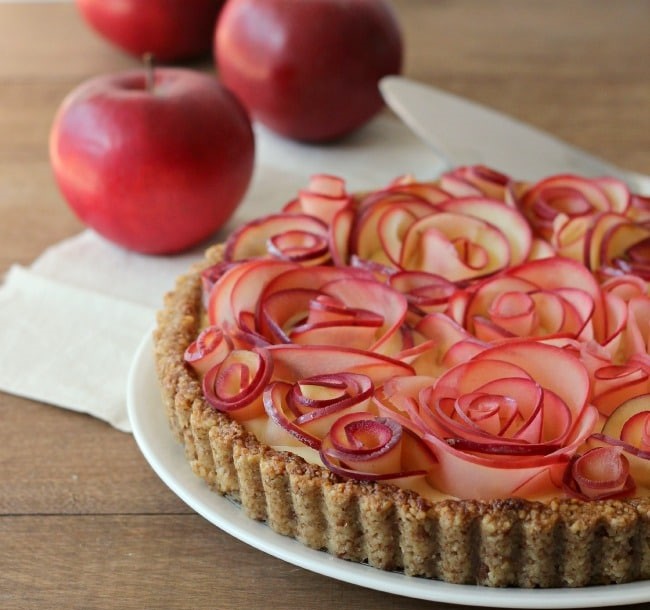 How to make apple rose?
At first glance, it may seem difficult to prepare but vice versa. This breathtaking dessert made from apples can be prepared in any season of the year.
Slice 3-4 apples of your choice with a thin slicer or a sharp knife as shown in the picture. Squeeze the juice of a lemon on it. If you wish to heat in the microwave for a minute or two, they will take more beautiful shape. Arrange the apple slices side by side regularly to get the roses of your size. After placing the tarta, optionally apply honey. Honey makes it look brighter.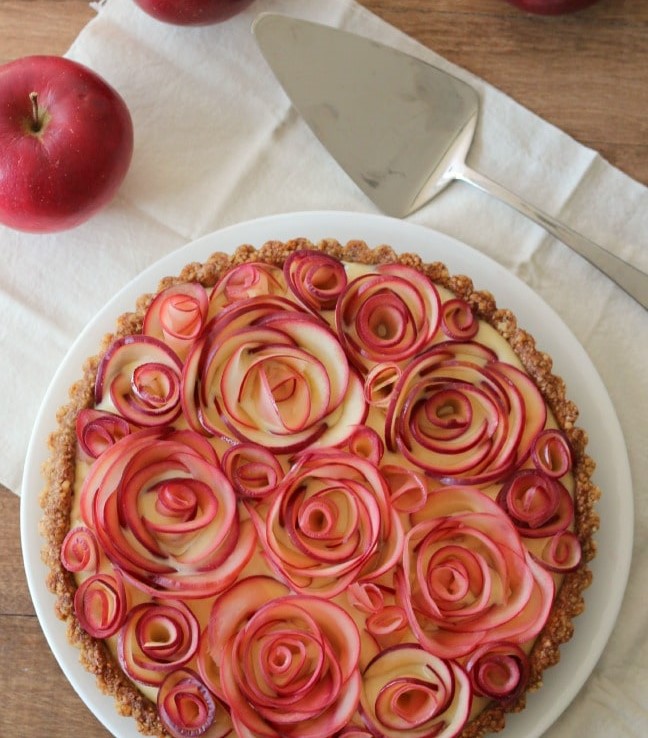 Ingredients
For the Walnut Crust
2 1/2 cups walnut pieces
4 tablespoons (half a stick) unsalted butter, melted
2 tablespoons granulated sugar
1 egg white
1/4 teaspoon kosher salt
For The mapple Custard
1 1/2 cups milk
6 large egg yolks
1/2 cup pure maple syrup
1/4 cup cornstarch
1/2 teaspoon kosher salt
1 teaspoon vanilla extract
Steps
Make The Walnut Crust
Preheat the oven to 400 degrees F.
In a food processor or chopper, pulse the walnuts until they are finely chopped, and the pieces are about the size of breadcrumbs.
Place the chopped nuts in a large bowl and add the remaining ingredients, tossing together with a fork.
Press the mixture evenly into the bottom and up the sides of a 9-inch tart pan. Bake for 15 minutes. Cool completely, then fill with Maple Custard and top with apples.
Make The Maple Custard
Pour the milk into a small pot and place over medium heat until small bubbles form around the edges.
Whisk the egg yolks, maple syrup, cornstarch, and salt together in a bowl until combined.
Slowly pour the hot milk over the egg mixture, while whisking, to warm the eggs.
Transfer the mixture back to the pot and place over low heat.
Cook, stirring constantly, until the mixture becomes very thick.
Turn off the heat, add the vanilla, and strain through a fine-mesh sieve into a heat safe bowl.
Place plastic wrap directly onto the surface and refrigerate for 2 hours.
Assemble The Tart
Spread the maple custard in the walnut tart shell.
Warm the apple slices in the microwave until pliable.
Roll a slice of apple into a tight spiral and stand it up vertically in the custard.
Continue to arrange apple slices in a concentric pattern around the first one, building a rose pattern.
Repeat until the top of the tart is completely covered with apple roses.
Brush honey over the apples, for shine (optional).
Looking for more apple recipes?